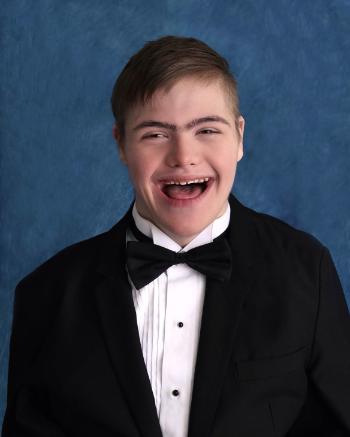 Caleb Dylan Gardner
May 07, 2003 - July 13, 2023
It is with heavy hearts that we announce the passing of, Caleb Dylan Gardner. Caleb left this world on July 13th, at the young age of 20, in the loving arms and embrace of his mother and father Amanda and Edward Schumann.
Caleb was born on May 7, 2003, and despite facing unique obstacles due to his conditions, Caleb's spirit radiated with resilience and determination. Everyone that encountered him would be moved by his smile and laugh.
As the oldest brother in his blended family, Caleb played a significant role in shaping the lives of his siblings. Jacob, Luke, Rhaylee, Alice, Abigail, Wylder, and his baby sister, due in December 2023, held a special place in Caleb's heart. Caleb's presence spoke volumes, and his siblings adored him. He became a role model, teaching them compassion, patience, and the importance of embracing diversity. Caleb's warm presence and infectious laughter brightened even the darkest of days. His unwavering spirit served as a constant reminder to cherish every moment and to find beauty in the simplest of things. He possessed a unique ability to touch the lives of everyone he encountered, leaving a lasting impact on all who had the privilege of knowing him.
In addition to his immediate family, Caleb was deeply cherished by his grandparents, Doris Harris, Kenneth Boyd, Robbie Adams, and Lorrie Schumann. Sadly, Caleb was predeceased by his beloved grandfather, Edward Schumann, who undoubtedly welcomed him into the arms of eternal peace.
He is also survived by his aunts, uncles, and many cousins. Daniel Adams and fiancé Courtney Clifton, McKenzie Boyd, Cathy and John Gallahorn and daughters, Michael and Megan Schumann and children, Jason and Kim Schumann and sons, Allison Schumann and son and Stern Keith, Jamey Avancini and daughters, Patricia and Vala Adams, Lisa and Bill Miller and children. Caleb's cousin Kayla was a steady presence in his life helping care for him throughout the years. Caleb's presence brought joy and love to the entire extended family, and his memory will forever hold a special place in their hearts.
We would also like to thank the many people that impacted Caleb's life. Dara Short and Ester Phillips for loving Caleb the past 6 months. Thank you Dara's family for embracing Caleb as one of their own. A big thank you to Susan Burchett who was Caleb's Physical therapist since he was a toddler and became a dear personal friend through the years. If Caleb could tell you thank you for the help you gave him, he would; along with all the colorful language he may use to tell you what he thought of the therapy. Thank you, Barry Hollandsworth, you were always a great resource helping Caleb with everything he needed at school. Preacher Allan Vass was an amazing substitute teacher and included him in class activities; the two made a fantastic team playing games of dodgeball. Thank you to all of the aides and caregivers at school; you will always have a special place in our hearts.
During his time with us, Caleb taught us to embrace differences, to celebrate the beauty in each individual, and to spread love without judgment. He reminded us that life's challenges are simply opportunities for growth and compassion. Though his time on Earth was shorter than we had hoped, Caleb's legacy will continue to inspire us and remind us to live each day to the fullest.
We invite you to join us in celebrating the life of Caleb Dylan Gardner. A memorial service will be held on July 16th at 3pm at Gardner Funeral home. A visitation will be held one hour prior to service time. In lieu of flowers, the family kindly requests donations be made to the special needs classroom of Floyd County High School in Caleb's honor and to the benefit of not only the special needs students, but also the teachers and aides who go above and beyond every single day to love and care for our children.
Caleb, your courageous spirit, infectious smile, and unwavering love will forever be engraved in our hearts. While we mourn your loss, we take solace in knowing that you are now free from pain and watching over us from above. May you rest in eternal peace, dear Caleb, as we strive to live a life that honors your memory.
---
Guest book
donna Hardin
Copper hill
July 15, 2023
May god be with ya and embrace his love on all of you
---
Drema Palmer
Floyd Va
July 15, 2023
So sorry for your loss Caleb was one special uoung man prayers
---
Vincent & Marilyn Turner and Family
Floyd
July 15, 2023
We were so sad to hear of your loss. Caleb will never be forgotten. We will treasure our memories of him and offer you our condolences. The ones we love are never gone; they live within our hearts. We are sorry beyond words for your loss. We love you all. If you need anything at all please let us know. ????
---
Angie Sowers
Floyd
July 15, 2023
Ed, Amanda & Family My thoughts, love, and prayers are with you. Caleb certainly was a very special young man who touched many & in the years to come, he will be remembered as the inspiration that was all Caleb.? We love you & please let me know if you need anything.?? Fly High, Sweet Caleb??????
---
Steve lamg
NC
July 15, 2023
---
Uncle Daniel
Bristol, Va
July 15, 2023
Enjoy the view Caleb, you changed my World
---
Ashley Peters
Roanoke Va
July 15, 2023
Sending the whole family all the love I have in me!! Caleb was the sweetest soul ever!! My favorite time was him sleeping on me the entire day during a outside wedding while I loved on him, so wish I could find the picture!! Hope my daddy has found you and gave you hugs up there, rest well sweet boy!! We love you ??
---
Jennifer Bolt Dickerson
Floyd
July 15, 2023
He was a precious soul who will forever be in our hearts.
---
Karen Lucas
Check
July 15, 2023
Praying for comfort and peace
---
Katie Dalton
Indian valley va
July 15, 2023
I remember seeing Caleb in the school halls with a smile on his face every time. God bless this family and bring them peace and comfort
---
Joan Agnew
Floyd
July 15, 2023
I am so sorry to hear of Caleb's passing. I will always cherish the time I got to work with him as his special education teacher during the time he was at Willis Elementary. I will always remember that precious, wonderful smile.
---
Angela Huff
Floyd
July 15, 2023
Caleb was a special soul!!!! I was in class with him while I was caregiver to another student. His smile could always light up a room. Many Prayers for you and you family. Caleb is healed and running the streets of heaven! Smiling down on us!
---
Pamela Earnest
Copper Hill
July 15, 2023
What a beautifully written tribute to your son. So sorry for your loss.
---
Brent and Gwen Hendrick Family
Floyd Va
July 15, 2023
Too much loss for such a sweet family. Jennifer had Caleb in class and loved him dearly. He made her laugh and was such a sweetheart. May God bless and comfort each of you.
---
Sheila Weeks
Willis, VA
July 15, 2023
I'm sorry for y'all's loss but it would be very selfish if I didn't share how excited I am for Caleb to be in his eternal home. I cried happy tears thinking about him walking the streets of gold & talking to our Heavenly Father. Praise God no more tears & no more pain?He was such a very special young man. I'm so thankful for the time I got to spend with him. Love, hugs & comforting prayers for you all?????
---
Amy Shurtleff
3114 Merino Dr, Roanoke 24018
July 15, 2023
Caleb will be missed by the large village, that loved him.??
---
Sabrina Crowder (Tracey)
Jacksonville Fl
July 16, 2023
My heart goes out to you and your family. My prayers are with you. Though I didn't know Caleb I loved to see his smiling face brighten up my FB page. RIP Caleb
---
Cathy Gallahorn
Smithfield VA
July 16, 2023
My sweet nephew, give grandpa hugs. Run, sing and dance with Jesus
---
Janice and Kenny Cox
Willis
July 16, 2023
So sorry for your loss, he was a beautiful child of God
---
Delores Akers
Radford, CA
July 16, 2023
Dearest Amanda and Family, I am so sorry to hear about Caleb's passing. He was always such a bright spot in my life when you welcomed me into your home to work with him when he was in preschool. He will be dearly missed and I know he is walking and talking up a storm in Heaven! Praying for you all now and in the months to come!
---
Randy Tuck
Floyd
July 16, 2023
Our prayers are with you Amanda, Ed, family and friends. May you have peace and comfort. Much love, Randy
---
brandon bain
Willis
July 16, 2023
Sry for your loss prayers
---
Debbie Hodge
Princeton WV
July 16, 2023
As my heart breaks for you guys. I also rejoice for Caleb. He's in heaven now with a new body. No more pain or suffering. Hugs and prayers. Love you guys
---
Momabecky Peters
Roanke
July 16, 2023
My handsome boy I will miss you. You were very special to a lot of people. You will always be in my heart and mind. All my prayers and love to the family??????
---
Carless Harris
Christiansburg
July 17, 2023
I never had the honor of meeting this precious soul but I'm thankful to know he loved and was loved by all who came in contact with him. May the Lord bless you all
---
Chelsa Yoder
Copper Hill, Va
July 17, 2023
Sending so much nice and thinking of you all. I only just found out and I hate I couldn't be there for the service.
---
Joel Hall
Floyd
July 18, 2023
---
Lynn Gregory
Floyd
July 19, 2023
I am so sorry for your loss, especially so soon after the loss of your dad and Lorrie, your husband. I hope you all find comfort in your memories.
---
James Bearden lll
Check
July 22, 2023
We are so sorry for your loss. I know you have been thru so much but God does notice our suffering. Please remember Isaiah 41:10 He will not let this go on forever. You are in our prayers
---
Brenda Williams
Floyd, Va.
August 13, 2023
Amanda and family, sending prayers to you all. I just saw this and didn't know that Caleb has passed. I was out of town for almost two weeks. I have so many wonderful memories of my time with Caleb. It was such a blessing to work with him and just be with him. I'm sorry I didn't keep in touch with you both but he's always been in my heart. Love you sweet Caleb and I'll never forget our beautiful times together! Fly high my friend!
---
Seth Hutchins
Alum Ridge Road
October 08, 2023
Amanda`s Family, I am Praying of your family!! Love, Seth
---
Sign the Guest Book for Caleb Dylan Gardner