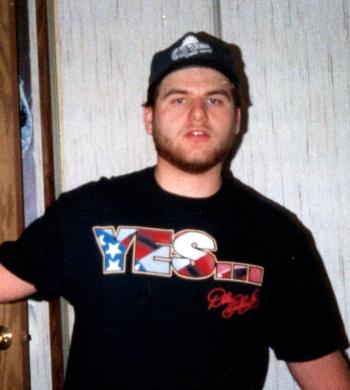 Wesley Eugene Jones
August 30, 1978 - July 21, 2023
Wesley Eugene Jones, 44, of Check (formally of Christiansburg) passed away July 21, 2023, at his home. He was born on August 30, 1978, to Jimmy and Sarah Jones. He was preceded in death by his grandparents Wesley Jones, Elizabeth Jones, Eugene and Mamie Smith. He is survived by his parents: James and Sarah Jones; brother Landon Jones and his wife Joni; Nephew: Silas Jones, also survived by numerous aunts, uncles, and cousins. Wesley loved his family, especially his nephew Silas. He was greatly loved and will be forever missed. He is gone to be with Jesus, and we will one day see him again. There are no services scheduled at this time.
---
Guest book
Michael janney
Christiansburg va
July 22, 2023
Sorry for your loss thoughts and prayers for you and your family
---
Pat Bland
Tucker, GA
July 23, 2023
Sarah, I was just notified of Wes's passing. I am so sorry. I was just thinking of him the other day. I still have the earrings he got me over 20yrs ago and when I see them, I always think about the memories. Again, I am so sorry for your lost. Pat Bland
---
Hope marvin
Vinton va
July 23, 2023
Words can't describe how sad this is u were such a sweet soul...Rest easy my friend
---
Carolyn
Christiansburg Va
July 24, 2023
Sarah I'm so sorry to hear about Wes's I love you with all my heart ?????????
---
Joe, Donna & Kileigh Walker
Childress
July 24, 2023
Lord bless Jimmy & Sarah during this time of mourning and Wes' entire family. Prayed in the name of Jesus Christ, AMEN
---
Brenda Martin
Christiansburg
July 24, 2023
I am so sorry for your loss. Praying for you!
---
Patrick Bolen
Danville VA
July 24, 2023
---
Janice McGuire
Dublin, Va
July 24, 2023
May you RIP..no more pain?
---
Elizabeth Cruise
Roanoke
July 25, 2023
Many laughs with Wes when we were young. I'm so sad to hear this.
---
Misty Linkous Bland
Christiansburg
July 26, 2023
I am thinking of all of you. Praying for peace and comfort. Love you guys. Misty
---
Sarah Thompson
Radford, Va
July 26, 2023
So sorry for your loss, Jimmy, Sarah and Landon. Praying for y'all.
---
Lonnie/Lorie East
Christiansburg Virginia
July 26, 2023
Our son went to school with Landon and Wess, no words on loosing a child, but it's only for a season, for the GOD of all GLORY caught him when he fell, may that same GOD give you peace until the day of seeing him again.
---
Denise Crawford
Christiansburg, Va
July 27, 2023
I'm so very sorry to hear about Wes! He's often crossed my mind over the years. Thinking of you all during this difficult time!
---
Sandra Poff
Check Va
July 31, 2023
So sorry for the loss you are in our thoughts and prayers we are just a step away if you need anything in days to come
---
Sign the Guest Book for Wesley Eugene Jones