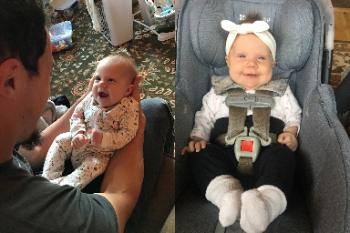 Tallulah Eliorah Harris
July 19, 2023 - October 14, 2023
Tallulah Eliorah Harris was born July 19th, 2023, suddenly passed away on Saturday October 14, 2023. We called her Tallie. She was a sweet, happy baby who brought so much joy and light to our family. We never expected to say goodbye so soon.
Tallulah means "Princess of Abundance" and "Leaping Water." Eliorah means "God is My Light."
We rejoice that she is waiting for us in heaven, and we're grieving because it seems so long until we see her again. We are just clinging to Jesus day by day.
Thank you to our dear friends and family who have showered us in love the last couple days. We cannot find words to say how loved we feel.
Tallie's memorial service will be Thursday, October 26th, 2023, at 5:30 p.m. at Beaver Creek Church in Floyd, Virginia. A meal will follow. Please come, and celebrate with us her brief but beautiful life.
---
Guest book
Joyce Reed
Floyd, VA
October 19, 2023
Prayers for all, so sorry for your loss.
---
Ray and Linda Turpin
Willis Va
October 20, 2023
So sorry for your loss. Pray God will wrap his loving arms around the family and bring them comfort and peace.
---
Annie Boyd
Floyd
October 21, 2023
So sorry.may God fill your hearts with his peace.such a beautiful baby.prayers for the family.amen.
---
Vickie Craig
Bassett. Virginia
October 22, 2023
Prayers and Love to your family
---
Sharon Wood
Copper Hill
October 23, 2023
It is so sad to hear about little Tallie's death. I know the pain from losing her is almost unbearable. In time, I pray you can take a little comfort from knowing you own little angel is now among the heavenly angels. Sharon Wood
---
Sign the Guest Book for Tallulah Eliorah Harris