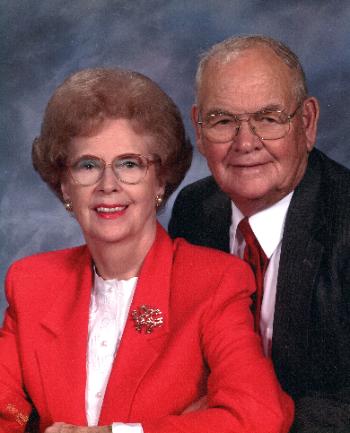 Louise Compton Via
July 27, 1937 - November 09, 2023
On Thursday, November 9, 2023, Louise Compton Via of Floyd, Va. passed away at age 86 at her home surrounded by family. She was born on July 27, 1937 to the late Ward and Minnalee Compton.
Louise was preceded in death by her husband of 67 years, Theodore Via, Jr.; son, Gerald; infant daughter, Suzie Lee; sisters: Patsy Cockram, Ruby Vest, and Hazel Howery; and brother, Bruce Compton.
She is survived by her son, Mark (Karen) Via of Floyd, daughter, Sarah (Michael) Browning of Copper Hill, and daughter-in-law, Vicky Via of Roanoke. Her grandchildren include: Melissa Johnson of Fincastle, Angela (Mike) Myers of Floyd, Patricia Moore of Roanoke, Laura Lee (Brandon) Allen of Floyd, Ryan (Sarah) Browning of Troutville, and Matthew (Stephanie) Browning of Troutville. Great-Grandchildren: Ashleigh, Emma, and Eli Johnson; Trevan (Chloe) Via; Kaylee Myers; Ashby Moore; Addison, Nash, Tucker, and Sada Allen; Abigail, Hannah, and Peyton Browning; and Elliana, Adelyn Louise, and Myra Jane Browning. Also a special sister, Lucy (Charles) McAlexander.
She was passionate about her family and most enjoyed moments with everyone gathered around her kitchen table. Louise was a classy lady, always adorned with lipstick and a smile. She was known by her community as the "Stanley Lady," having sold Stanley Home Products for over 50 years. Not only was she a passionate saleswoman but she most cherished the relationships she made along the way. She was a member of Floyd Baptist Church, loved her church family and friends, and especially her relationship with her Lord and Savior Jesus Christ.
Her visitation will be held at Gardner Funeral Home in Floyd on Saturday, November 11th, 2023 from 4-7pm. Funeral services will be conducted by grandson, Matthew Browning on Sunday, November 12th, 2023 at 3:00pm. Interment will follow at Lee Cemetery at Tuggles Gap.
We are extremely grateful and indebted to her wonderful caregivers. The family also expresses deep appreciation to the staff of Carilion Clinic Hospice-NRV.
In lieu of flowers, donations can be to the Lee Cemetery Tuggles Gap, mailed to 426 Via Drive, Floyd, VA.
---
Guest book
Laurie scott
Fieldale va
November 10, 2023
My fondest memory of a beautiful woman Louise was when my dad passed away. My mom called her to help her pick out the suit for my dad to be buried in. She was a very sweet and thoughtful woman. My son was actually named after Ryan Matthew in combination of her 2 grandsons. Sympathy to the family. May God Bless each one of you.
---
Rose Beaver Saunders
Floyd
November 10, 2023
So sorry for your loss.I really enjoyed being one of her caregivers.Much love to the Via family.
---
Angie Sowers
Floyd
November 10, 2023
Mark, My thoughts and prayers are with your family. Louise was such a sweet person. If there is anything I can do, please let me know.✝️ Blessings, Angie Sowers
---
Brian Griffith
Christiansburg va
November 10, 2023
Louise was such a sweet lady My mother sold Stanley products with her as well. Her and my mother were good friends. Mom died in 2000. We would fo to her house sometimes and also to the Stanley parties at Longwood Restaurant. She will be missed. Rest in peace.
---
Mary Weddle Fainn
NC
November 11, 2023
I'm so sorry for your loss. Please know I am praying for your family. Love Mary Yonna.
---
Debra W. Hale Primm
Floyd
November 11, 2023
I am so very sorry for the loss of such a wonderful christian lady. My love and prayers go out to this entire family for comfort during this difficult time.
---
Steven Beaver
Floyd va
November 11, 2023
My thoughts are with you your family.
---
Ronda Harris
Floyd
November 11, 2023
So sorry for your loss. It is always hard, just know she is with her Lord and happy, smiling that beautiful smile as always. A great lost for the family as well as the neighborhood and the county of Floyd. Such a wonderful and beautiful Lady. Ronda
---
Patty Weeks
Floyd, Va
November 11, 2023
Having known Louise for many years, she was "one of my favorites". I always thought she was truly a lady and a wonderful person. Thoughts and prayers to her family. Patty B. Weeks
---
Patty Duncan
Floyd
November 11, 2023
Very sorry for your loss. Louise was a very nice person. I will always remember her Tupperware parties and her smile. May God give you comfort and strength during this time.
---
Ben Harmon
Olive Hill, KY
November 11, 2023
Louise was a real trooper. Remember her from way back: friend of my late mother, Dorothy, and of my late wife, Sharon. Of course, I knew the Via's as neighbors. Louise was the "Stanley" lady. I still have a bottle of Stanley Aquilaun, for cold-washing woolens that must be at least 50 years old! Many prayers for family and friends.
---
Annette Yearout
315 Lumber Lane NE, Floyd, VA 24091
November 12, 2023
We are sadened by your loss, but grateful that she is now in her heavenly home. Prayers go out for you.
---
David and Beverly Cockram
Vinton, Va
November 12, 2023
Mark and Karen, Sarah and Mike and families. We are so sorry to hear about Louise and being unable to share our condolences in person. She and all your family have touched my life personally and shown your hearts and kindness. Our hearts and prayers are with you.
---
Cindy Smith
Check va
November 12, 2023
I'm so very sorry for the loss of your mother and grandmother.
---
John and Deborah Carter
Floyd,VA
November 12, 2023
Mark, Sarah, Vickie abd family, we are so sorry for your loss. She definitely was a special lady. Sarah is so much like her. We will keep you and your family in your prayers.
---
Tonya and Gerry Quesenberry
Floyd Va
November 12, 2023
So sorry for your loss. Prayers for you all.
---
Shirley Yeatts
Floyd
November 13, 2023
She was a wonderful lady. I had a Stanley party for her 40 some years ago,she told me that big-roaster would bake a turkey good and last forever,guess what,she was right. Im sure you're going to miss her,she's flying with the angels.
---
Jimmy Boley
Blacksburg
November 15, 2023
Sarah, I,m so sorry to hear about the passing of your mother. She always treated me so kindly when I visited. What a wonderful mother who raised a wonderful family.
---
Johnnh Guilliams
Boones Mill, va.
November 20, 2023
Sorry about your Mom. Didn't know anything until todayl Sorry for your loss.
---
Sign the Guest Book for Louise Compton Via