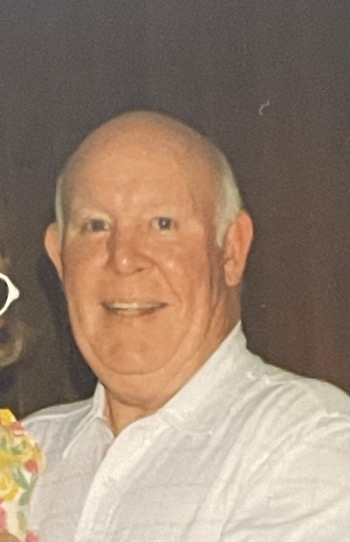 Henry Evans McDaniel
May 26, 1937 - November 13, 2023
Henry Evans McDaniel, 86, of Floyd went to be with the Lord on November 13, 2023 surrounded by his loving family.
Henry was a graduate of Bridgeport High School and was a member of the first-ever state championship football team. In the Bridgeport community the "1955 team" is considered the gold standard of the first of 10 state championships. After high school, he served in the Marine Corps until 1959. After serving his country, he worked in County Government. He was the first County Administrator for Floyd County beginning in the early 1970s. After retirement, he enjoyed playing cards, gardening, and spoiling his grandchildren and great grandchildren.
He was preceded in death by his loving wife of 59 years Ronnie Jeanne McDaniel; his parents, Charles McDaniel and Mary Elizabeth McCauley. Brothers, John McDaniel, Butch McDaniel, Roger McDaniel, and Jim McDaniel. Sisters, Juanita Johnson and Charlene Sissler.
He is survived by his brother Charles "Bud" McDaniel. Three daughters, Allison (TJ) Szmyt, Leslie (Christopher) Newman, Tracy (Terry) Grubbs; three grandchildren, Lauren Furrow, Jacob (Laci) Newman, and Zachary Newman; great grandchildren Austin, Jackson, Olivia, Camden, and Jayden; along with several special nieces and nephews.
Special thank you to close friends Donnie Alderman and Curtis Nolen; Carrie Sherman, Lorraine Lester, and Samantha Wade with Carilion Clinic Home Care Services of the NRV; Leigh Wingo, Mandy Price, and Robbie Karim with the VAMC Home Based Primary Care; Dr. Chaudry with Lewis Gale Clinic; and Good Samaritan Hospice Services.
Funeral services will be held on Saturday, November 18, 2023 at 2 PM at Gardner Funeral Home with Pastor Roy Turpin officiating. Interment will follow in Jacksonville Cemetery. The family will receive friends for one hour prior to service time.
---
Guest book
Cassandra West
Dugspur
November 16, 2023
So sad about Henry. He was very special to me. He was a joy.
---
Kathy Bowman
Parrott, VA
November 16, 2023
Leslie, I am so sorry to hear about your father. My thoughts and prayers are with you and your family.
---
Patty B Weeks
Floyd, Va
November 16, 2023
Special thoughts and prayers to your family at this time. Our family has known your family since your move to Floyd County in the 70's. Henry did many good things as county administrator for Floyd. Ronnie Jean and their girls (those great b-ball players) will also be remembered fondly.
---
Johnny Carter
Floyd, VA
November 17, 2023
Henry was a nice and funny man. He will be greatly missed in Floyd.
---
Alesia Collins
Narrows
November 17, 2023
Leslie, I'm so sorry! You and your family are in my thoughts and prayers!
---
Carrie Sherman
Floyd
November 17, 2023
In loving memory of sweet ole'Henry Im so very thankful for the time we had together, the sharing of laughter, stories, and a genuine connection that turned our time together into cherished moments. Your resilience, your warm and kind heart inspired me daily, you were a true friend, a mentor. Your memory will forever hold a special place in my heart. Thank you for the gift of your friendship and the countless lessons and laughs we shared. Praying for your families comfort during this most difficult time. With heartfelt sympathy, Carrie
---
Glenda Rabenold (Reed)
Clarksburg WV
November 18, 2023
So sorry for your loss. Henry was a good man
---
Rachel Lotts
Salem VA
November 18, 2023
Allison, I am so sorry my friend for the loss of your dad. My prayers are with you and your family for the coming days ahead.
---
Anne Wood
New York, NY
November 27, 2023
My deepest condolences to Henry's family. He was a delightful, witty and warm person. I greatly enjoyed our conversations, and feel saddened by his passing. He was truly one of a kind.
---
Sign the Guest Book for Henry Evans McDaniel