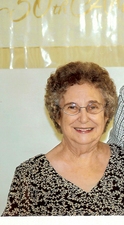 Frances Wade
October 26, 1938 - June 04, 2012
Frances Wade. age 73, of Floyd, passed away Monday, June 4, 2012. She was preceded in death by one son, Danny Wade; and two granddaughters, Valerie Wade and Shenna Wade. She is survived by her husband, Coy Wade; three sons and daughters-in-law, Dale and Vicky Wade, Darrell and Connie Wade, Doug and Terri Wade; ten grandchildren and spouses, Deanna and Brian Swortzel, Jeremy Wade, Kelly and Matthew Blackwell, Kayla and Jared Cox, Kendell Wade, Brandon and Karie Wade, Chris and Mindy Wade, Britney Wade, Isaiah Griffith, Coy Landon Wade; eight great-grandchildren; two brothers and a sister, Hassell Dickerson, Harold Dickerson and Louise Horseman. Funeral Services will be held Thursday, June 7, 2012 at 11:00 am. at Gardner Funeral Home Chapel with the Reverend Gene Koger and Reverend Murray Agee officiating. Interment will follow at Lee Cemetery. Friends may call between 6 and 8pm. Wednesday, June 6, 2012. Arrangements by Gardner Funeral Home, Floyd. Online condolences may be made at www.gardnerfuneralhomefloyd.com.
---
Guest book
Bud and Theresa Griffith
Woolwine, VA
June 04, 2012
We are so sorry for the loss of Mrs. Wade, a sweet sweet lady and a pleasure to be around. It is a big loss for your family and for folks on both ends of the mountain. Our thoughts and prayers are with you.
---
JENNIFER LUCAS
Waynesboro VA
June 04, 2012
I'm very sorry for your lose. She was a very special lady. I feel truely blessed to call you all family. My thoughts and prayers are with everyone.
---
Frances Casstevens
Floyd, Va.
June 04, 2012
Coy and family just want to let you all know you are in my thoughts and prayers. Frances was a very special lady ,Danny and Jack and her are probably all rejoicing in Heaven now. Love You All, Frances Casstevens
---
Sandy
Pilot va
June 05, 2012
I am so sorry for your loss Britney
---
---
Eddie & Lisa Morris

June 05, 2012
Thinking of each of you as you go thru this loss in your own ways. Most Heavenly Father we ask that your Peace be placed upon the hurting hearts in this family as they say goodby to a very special lady in their lives. Each will hold special memories close to their heart as they remember her in their own way. We don't always understand why, but we know that you do & for that alone our hearts are softened by your continued love for each of us & the day we'll see you face to face again along with those who've left before us. We ask all this in your most wonderful and glorious name...amen
---
Deirdre Conner
Jacksonville, FL
June 05, 2012
Coy, we are so sorry for your loss and keeping you and your family in our prayers.
---
Jessica Scott Phillips
Woolwine, VA
June 06, 2012
My thoughts and prayers are with the entire family.
---
Stuart and Dana Scott
Stuart, VA
June 06, 2012
We are thinking of the family at this time. Our hearts go out to you.
---
Deborah Carter
Floyd
June 06, 2012
To all of the Wade family, We are very sorry for your loss. She was a very kind and sweet lady. We will keep your family in our prayers. John and Deborah Carter
---
Bobby W. Huff & Amy Hawkins
Floyd, VA
June 07, 2012
Dear Wade Family, We are very sorry for your loss and regret terribly that we could not make it last night to offer our condolences. We want you to know that you all will be in our thoughts and prayers through this difficult time. Your family is very special to us and we love you all. Sincerely, Bobby & Amy
---
Jean Wright
Check, VA
June 07, 2012
Our prayers and thoughts are with the family and friends in this time of loss. The Wright Family, Silveon, Jean, Teresa, Greg & Tara Wright
---
Margie and Harold Haynes
Callahan, Fl/Bassett Va
June 11, 2012
We read in total shock tonight of the passing of Frances. These are 2 of our favorite people that we have become friends with while spending time in Va. We have been stopping at their fruit stand for about 10 years and absolutely love this couple. We pray Gods comfort for Coy and the rest of the Wade family. We know how loved you all were by Frances With deepest sympathy, Harold and Margie Haynes
---
Sign the Guest Book for Frances Wade