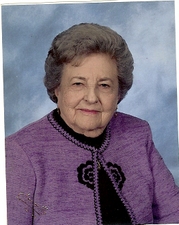 Myra Ingram Peters
April 15, 1922 - June 03, 2012
Myra Ingram Peters, 90, of Floyd, passed away on Sunday, June 3, 2012 after a long battle with dementia. She was predeceased by her husband, J. Ford Peters and a son, Danny Dale Peters. She was an active member of Floyd Baptist Church and Pizarro Extension Club. She also worked as a clerk at a local grocery store until the young age of 78. She is survived by her son, Wendell Peters and his wife, Marie, of Floyd; Also surviving are two grandsons and spouses, Gary and Carrie Peters of Maple Hill, NC, and Brian and Susan Peters, of Greensboro, NC; one granddaughter, Anne Peters, of Riner, VA. Other survivors include two great-grandchildren, Andrew Peters of Maple Hill, NC, and Kristen Peters of Greensboro, NC. Funeral services will be conducted at 11 a.m. on Wednesday, June 6, 2012 at Floyd Baptist Church with the Reverend Joe Womack officiating. Interment will follow at Jacksonville Cemetery. Friends may call after 12 p.m. on Tuesday at Gardner Funeral Home where the family will be from 6 p.m. until 8 p.m. Condolences to the family may be made at www.gardnerfuneralhomefloyd.com. The family expresses special thanks to the nursing staff on C wing at Skyline Manor Nursing and Rehab for all of the love and care shown to our loved one. Arrangements are being handled by Gardner Funeral Home, Floyd.
---
Guest book
John & Myra Helm
Floyd,VA
June 04, 2012
You all are in my thoughts and prayers.
---
BOBBY AND POLLY CALDWELL
RADFORD, VA
June 05, 2012
OUR THOUGHTS ARE WITH THE FAMILY AT THIS TIME OF SORROW
---
Diana Johnson
Pearisburg, VA
June 05, 2012
Wendell, I am sorry to learn of your mother's passing. Please know that you and your family are in my thoughts and prayers at this time. Diana Johnson
---
Sandy
Pilot va
June 05, 2012
Toughts Prayers are with everyone Iwork at Skyline
---
Loretta Hylton
Floyd, VA
June 05, 2012
I am very sorry for your loss. I know its never easy. My thoughts and prayers are with you all.
---
Sheena Brown
Floyd, VA
June 05, 2012
Myra will always hold a special place in my heart. She will truely be missed! Praying for your family.
---
Patsy H. East
Floyd, Va.
June 06, 2012
Sorry for your loss..May God wrap his arms around you and help you get through this difficult time.
---
Deborah Carter
Floyd
June 06, 2012
Wendell and Marie, We are sorry for the loss of Myra. She was such a kind lady. We really enjoyed meeting her and Ford when we first came to Floyd. They were a great pair! We will keep your family in our prayers. John and Deborah Carter
---
Jean Wright
Check, VA
June 07, 2012
Our prayers and thoughts are with the family and friends in this time of loss. The Wright Family, Silveon, Jean, Teresa, Greg & Tara Wright
---
Sign the Guest Book for Myra Ingram Peters