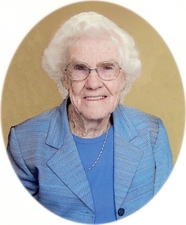 Flora James Nolen
September 22, 1908 - August 06, 2012
Flora James Nolen, age 103, of Floyd, passed away on Monday, August 6, 2012 at the home of her daughter. She was born on September 22, 1908, the youngest of eight children born to William Elkaney James and Elvira Thomas James. In addition to her family and all of her siblings, she was preceded in death by her husband, Earl Nolen and her grandson-in-law, Timothy Chisom. Flora is survived by her daughter, Gloria Dean Prillaman and husband James; her special granddaughter, Loretta Chisom; a brother-in-law, Marvin Nolen; and several nieces and nephews. Funeral services will be conducted at 2 p.m. on Thursday, August 9, 2012 at Gardner Funeral Home Chapel with Pastor Alan Vass, the Reverend Berlin Joyce and Glynn Greer officiating. Interment will follow at Jacksonville Cemetery. The family will receive friends after 12:30 p.m. on Thursday at Gardner Funeral Home. There will be no evening visitation at the funeral home. The family expresses special thanks to Dr. Craig Mitchell and Stephanie and Marla from Medi-Home Hospice. Condolences to the family may be made at www.gardnerfuneralhomefloyd.com.
---
Guest book
Alma Willis
Beckley WV
August 08, 2012
Our family loved your Mother so much. The best times of our lives were spent between her house and Nannie's. Hopefull, we can make it to see all of you soon. With love, Alma
---
Wanda & Steve Henry
Roanoke, Va.
August 08, 2012
We are so sorry to hear your Mother has passed on to her eternal life. My son Mark spoke of her often and admired her for her strength to carry on like she had. As I have a broken heart and miss Mark so much; I know you feel the same pain as you do for your Mother. May God bless you and your family; continue to carry all your fond memories of her.
---
Stephanie Smith
Roanoke, VA
August 09, 2012
You have my deepest sympathies. It was an honor to care for your mother and to be there for you and your family. I pray God provide comfort and peace to you all during this difficult time.
---
Mary Reed Weddle
Floyd, va
August 12, 2012
Gloria Dean, I was sorry to hear of the loss of your Mother, I hope your memories will give you some comfort. You and your family will be in my thoughts and PRAYERS. LOVE YA,
---
Sign the Guest Book for Flora James Nolen