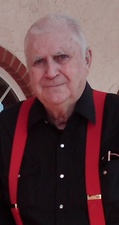 Romeo Melvin Turner
February 18, 1935 - August 14, 2012
Romeo Melvin Turner, 77, of Salem, and formerly of Floyd, passed away on Tuesday, August 14, 2012. He was preceded in death by a son Kenneth Melvin Turner. He is survived by his wife, Carolyn Ramsey-Turner; son and daughter-in-law, Raymond and Reba Turner; step-son, Elijah Gardner Ramsey III; step-daughter, Annanath Waraick; grandson, Lukes Turner; granddaughter, Gina Gayle Turner; step-grandson and spouse, Brandon and Susan Dickerson; three step-great-grandchildren; one brother, Amos Smith; two sisters, Alice Holt, Mabel Agee. Funeral services will be conducted at 11 a.m. on Saturday, August 18, 2012 at Gardner Funeral Home Chapel with the Chaplain Harold Bryant officiating. Interment will follow at the Graham Cemetery. Military Rites by VFW Post #7854 and American Legion Post #127. Friends may call at Gardner Funeral Home after 6 p.m. on Friday where the family will be from 6 p.m. until 8 p.m. Condolences to the family may be made at www.gardnerfuneralhomefloyd.com.
---
Guest book
patsy&gina turner
floyd
August 16, 2012
sorry hear about melvin u in our prays
---
Rick and Tamy Brown
Vinton,Va.
August 17, 2012
Carolyn and family....So sorry for your loss...Our thoughts and prayers are with you!!!
---
Jackie Smith-Russ
Frederick, Md
August 17, 2012
Thoughts and Prayers to you Carolyn and your family during your loss, Love and Miss Y'all, So Sorry to hear about Uncle Melvin, I love and Miss you Uncle Melvin (Go Rest High on that Mountain Son your work on earth is thru go to Heaven a shouting)
---
Jan Burton
Salem, Va
August 17, 2012
Carolyn, I am so so sorry for your loss. You and your family are in my prayers.
---
Linda Atkinson
Claytor Lake
August 19, 2012
Carolyn and EG..I am so sorry for your loss. Charlie told me on Friday about Romero. When I woke up on Saturaday am I had the stomach flu. I feel some better. Call me 540-639-0002 when you get a chance. Romero looked good. I am so happy that you found someone to love. Love Linda and Jack.
---
Robin McLaurin
Maxton, NC
August 20, 2012
The McLaurin and Nida families send our deepest sympathy, We all love you Sis
---
Curtis E. Nester
Moneta, VA
August 24, 2012
Our deepest condolences to the family. I remember Melvin from the 8th grade in Floyd. God bless you and comfort you in the time of your grief.
---
Sign the Guest Book for Romeo Melvin Turner