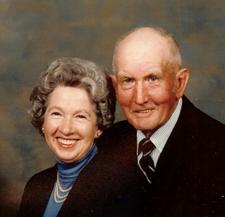 Rosalie Terry Conner
March 23, 1927 - September 11, 2012
Rosalie Terry Conner, 85, of Floyd, passed away on Tuesday, September 11, 2012 at Skyline Manor Nursing Home. She was born on March 23, 1927 in Meadows of Dan, Virginia. June and Rosalie were Dairy Farmers all of their adult lives, and she enjoyed feeding the baby calves. She was an avid gardener, and was the happiest when she shared the bounty of her garden with family and friends. She also grew dahlias and other flowers over the years, and made dry flower wreaths in her later years. She is preceded in death by her parents, Herbert and Oma Terry, her husband of 58 years, June Conner, and her brother, Clovis Terry. She is survived by her son and daughter-in-law, Jimmy and Nicole Conner; grandson, Sammy Conner; step-grandchildren, Heather Linkous and Michael Lively; sisters and brothers-in-law, Sybil and Kelly Butter, Mildred and Bill Koehler, Ruth Milam, Guelda Skaggs, Lorna Hurt; brothers and sisters-in-law, Carl and Nellie Terry, Bernard Terry, Grady Terry, Ruth Terry, very special friends, Bill and Arva Coleman; many nieces and nephews and cousins. Funeral services will be conducted at 11 a.m. on Monday, September 17, 2012 at Gardner Funeral Home Chapel with Elder Larry Hollandsworth and Elder Mark Terry officiating. Interment will follow at Jacksonville Cemetery. Friends may call on Sunday after 8:30 a.m. at Gardner Funeral Home where the family will from 6 p.m. until 8 p.m. In lieu of flowers, memorial contributions may be made to New River Land Trust, P.O. Box 11057, Blacksburg, VA 24062 or to Ag in the Classroom, P.O. Box 27552, Richmond, VA 23261. Condolences to the family may be made at www.gardnerfuneralhomefloyd.com.
---
Guest book
Mary & Ray Weddle
Floyd
September 16, 2012
Our thoughts and PRAYERS are with you as you grieve the loss of your MOM and Grandmother. She was a very friendly and sweet person. I know she will be missed terribly. Jimmy, Nicole, and Sammy we will keep you in our PRAYERS. LOTS of PRAYERS and LOTS of LOVE,
---
Virginia Campbell
Fort Worth, Texas
September 17, 2012
I have such dear, sweet memories of my Aunt Rosalie. Her voice was always so kind and caring. I loved her smile--her whole face sparkled when she smiled. My condolences are sent with love to Jimmy, Sam and Nicole, and my aunts and uncles who have lost their sister.
---
Sign the Guest Book for Rosalie Terry Conner