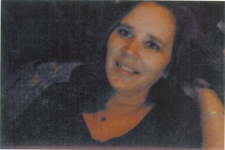 Joan Elaine Shive
July 19, 1961 - October 18, 2012
Joan Elaine Shive, age 51, of Willis, passed away October 18, 2012. She is survived by her husband, Scott Shive; children and spouses, Erin and Adam Harman, Matthew and Tory Shive; three grandchildren, Liam Shive, Jonah Harman and Brayden Shive; mother, Shirley Subin; father, Robert Legg; brother, Steve Legg; father and mother-in-law, Dick and Lorie Shive . A private memorial service will be held at a later time. Online condolences may be made at www.gardnerfuneralhomefloyd.com. Arrangements by Gardner Funeral Home, Floyd, VA.
---
Guest book
Bill and Judy Bryant
Willis
October 20, 2012
Thinking of you guys, hoping healing and peace will come to you as time passes. Wonderful neighbor, nurse and friend.
---
Linda Heikes
Pulaski, Va.
October 20, 2012
Scott and Family, It is so hard to say the right words to a family who has lost sucha special loved one as a wife and mother, I just want you to know all of you are in my prayers and thoughts,and how sorry I am for your loss.
---
Beth Landreth
Willis
October 21, 2012
I am so very sorry for the loss of your mother, mother inlaw wife and friend. I will be praying for your family during this difficult time.
---
ANNE WOODYARD
DUBLIN, VA
October 21, 2012
I WORKED WITH JOAN FOR YEARS AT HOME HEALTH. SHE WAS A WONDERFUL PERSON, FUNNY, PLEASANT TO TALK TO, CARING, AND LOVED HER FAMILY. SHE WAS ALSO A GREAT NURSE AND CO WORKER AND I MISSED HER A LOT AFTER SHE LEFT HOME HEALTH. I WAS SO SHOCKED AND SAD TO HEAR THIS NEWS. IT IS SO HARD TO BELIEVE. SHE WILL BE SADLY MISSED. JOANS FAMILY AND FRIENDS WILL BE IN MY THOUGHTS AND PRAYERS AND AGAIN I AM SO SORRY TO HEAR THIS. SINCERELY, ANNE WOODYARD
---
Laura Vazquez
Radford, VA
October 22, 2012
Dear Shive family, It was such a shock to hear the news of Joan's death. I worked with Joan years ago when she was the Floyd Home Health Supervisor. I remember Joan being a gentle soul. It is hard to express my sadness for her and your family at this time. Please know that others are thinking of you all at this time and you are in our thoughts and prayers.
---
Michelle Melton
Radford, VA
October 22, 2012
Joan was a wonderful lady. She will be greatly missed. I will continue to send my thoughts and prayers.
---
Margaret Hoskins
Radford
October 22, 2012
Joan was a great nurse and I really enjoyed working with her. I did home health with her as a physical therapist and knew her to be a kind caring nurse. My thoughts are with you, Margaret Hoskins, PT
---
Karina Jones
Dublin, VA
October 23, 2012
Prayers for the family and friends during this difficult time
---
Barbara Pack
Radford va
October 29, 2012
I am so sorry to hear about Joan. I truly thought of her as a good friend. I will be praying for you.
---
Mary Kozar
chrisitansburg, va
November 03, 2012
I am so sad for the loss of Joan Shive. She will be missed. Love, Mary
---
Sign the Guest Book for Joan Elaine Shive