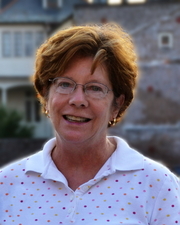 Pamela Bates Ferst
January 19, 1948 - November 06, 2012
Pamela Bates Ferst, 64, of Maryville, TN, died Tuesday, November 6, 2012. She was born January 19, 1948 in Alexandria, VA. Pam was a member of First United Methodist Church of Maryville. Her loving and kind spirit will forever be remembered. She was a retired registered nurse, loved praising the Lord with music, and more recently enjoyed spending precious time with her grandchildren. Pam was known for her devotion to God, her family, and her care and concern for the welfare of others and all God's creatures. She is survived by her husband, traveling buddy, and soul mate of 44 years, Charles Ferst; daughter and son-in-law, Jennifer and Kevin Parr, of Maryville, TN; daughter and son-in-law, Christa and Kevin Honaker, of Blacksburg, VA; brother and sister-in-law, Robert and Joy Bates, of Panama City, FL; five grandchildren who were the twinkle in her eye, Charles, Madeline, Gretchen, Jacob, and Martin; and extended family and friends. Pam was blessed with a wonderful life and in turn blessed those she came in contact with. In lieu of flowers, memorial contributions may be made to Maryville Christian School, 2525 Morganton Rd., Maryville, TN 37801 or Blacksburg United Methodist Church children's music ministries, 111 Church St., Blacksburg, VA 24060. A service will be held at graveside, Laurel Springs Farm family cemetery in Meadows of Dan, VA, 2 pm, Saturday, November 10. All are welcome. Family will receive friends one hour before the service at the graveside. Gardner Funeral Home, Floyd, VA, will be handling the service. At a later date, a celebration of life service will be held for friends in Maryville. Online condolences may be made at www.gardnerfuneralhomefloyd.com.
---
Guest book
Paul and Kelly Platillero
Knoxville, TN
November 08, 2012
Dear Charlie, Jennie, and family, our hearts go out to you during this time of deep sorrow; we pray for comfort and peace in the midst of the pain. We love you and care deeply for you. Paul, Kelly, Ellie and Annie Platillero
---
Heather Polk
Tampa, FL
November 10, 2012
My heart breaks for your family. It's so difficult to say goodbye to the earthly presence of a loved one. It feels like a part of you is now gone- but I thank God you have the assurance of eternity . I pray that God's loving spirit will comfort you- lift you up and give you strength as you walk through these challenging days- losing a parent is never easy, especially when it seems their number of days were too short! I pray for your dad- knowing that he will feel lost without her after 44 years! I pray that your love for God and each other will be strengthened- that you will delight in all the precious memories and that your mother's legacy will be a testament of God's faithfulness to all who are touched by your family.
---
Margaret Brown
Springfield, VA
November 10, 2012
I wish to send the extended Ferst Family my deepest condolences on your unexpected and gravely painful loss. I pray The Lord cradle you gently in His arms as He carries you through this dark time, and I thank The Lord there will be a day when tears will be no more as we are all together again.
---
Sign the Guest Book for Pamela Bates Ferst