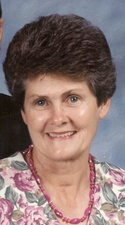 Faith Smith Radford
November 19, 1939 - December 27, 2012
Faith Smith Radford, 73, of Floyd, slipped peacefully into the arms of her Saviour, Jesus Christ, on Thursday, December 27, 2012. She was born on November 19, 1939 to Ethel Smith of Floyd and the late Clifton Smith. Faith was a longtime member of the Floyd Church of the Nazarene where she served her Lord faithfully. She is preceded in death by her husband of 55 years, Uriah Nolen Radford and her son, Johnny Nolen Radford. Faith will be sadly missed and lovingly remembered by her daughter, Rosie Henninger of Floyd; three very precious granddaughters, Holly Henninger Showalter and husband, Josh, Amber Radford Peterson and husband, Joshua, Kayla Radford Spencer and husband, Timmy, and her great-grandson, Shane Spencer, and daughter-in-law, Evangeline Radford of Lynchburg; her sisters, Nila Gray and Betty Tucker and husband, Jim of Floyd; her sisters-in-law, Virginia and Joe Anderson, PeeWee Leffingwell and JoAnne and Gary Rivers all of Richmond; two nephews, Gary Spence and Shawn Hilton (Jessica and Addison), a niece, Kristy Bowman and husband, Keith, and Kaylen, and Marissa Puckett and husband, Patrick, and a special cousin, Peggy Vaughn of North Carolina; and her special church family who meant so much to her. Faith's wishes were that there be no viewing. Her ashes will be buried with her husband and son at their pond where they spent so many happy times together. There will be a celebration of Faith's life at the Floyd Church of the Nazarene on Sunday, January 6, 2013 at 3:00 p.m. with Pastor Steve Roberson officiating. There will be no visitation at the funeral home. In lieu of flowers, donations can be made to the Floyd Church of the Nazarene for outreach in the community or New River Carilion Hospice Program. The family wishes to thank everyone for their kindness during this difficult time. Condolences to the family may be made at www.gardnerfuneralhomefloyd.com. Arrangements are being handled by Gardner Funeral Home, Floyd.
---
Guest book
Rose Bowen
Floyd, VA
December 28, 2012
So thankful Faith is free of pain and that the next thing she will see is the face of her Savior. She truly lived up to her name.
---
Carol Thomas Vaughn
Floyd
December 29, 2012
Rosie, My heart goes out to you and your family. I know that you are going through a very difficult time and no amount of words will take the pain away. As hard as it seems, you will get through this difficult time and become stronger. Please know that you are in our thoughts and prayers. Carol and Danny Vaughn
---
Lois Poff
Willis, VA
December 29, 2012
Rosie and all the family...My heart truly breaks for all of you left behind...Know that you all are in my prayers.
---
Mike Dishman
Bristol, VA
December 30, 2012
Rosie, Debbie and I are so glad and honored that we got to visit with you and your sweet mother on Sunday, Dec. 16. We are very sorry and concerned for you in this difficult time. Your mom and dad, and, of course, Johnny, were very very special to me. I love your family. I do not understand and have a hard time comprehending that all three of them are gone so close together. Johnny and your family helped save me when I was in high school by befriending a friendless lost kid. Love, Mike
---
Sharon Harris
Copper Hill
January 02, 2013
Rosie and Holly, We are so sorry for your loss. All of us at the clinic are thinking and praying for you in this difficult time.
---
Richard & Janet Pratt
66 Plandome Court Martinsville Va 24112
January 14, 2013
Rosie I was so sorry to hear about your mother passing away . She was a great person and i am sure will be greatly missed . I know mom thought the world of her . She was a great christian lady and she done a lot for her church . Rosie , Janet and I will have you and your family in our prayers. Richard & Janet Pratt .
---
Sign the Guest Book for Faith Smith Radford