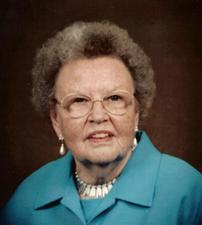 Mabel Wimmer Manning
December 05, 1921 - January 30, 2013
Mabel Wimmer Manning, (Nubbin), age 91, of Copper Hill, VA. , went home to be with the Lord on January 30, 2013. She was preceded in death by her husband, Curtis W. Manning. Mabel was a dedicated member of Copper Hill Church of the Brethren. She was very active member in the choir, Ladies Aid, and many other church activities. She was employed with the Bent Mountain Green House for about ten years before retiring to take care of her husband who had Parkinson Disease.She is survived by her son and wife, James Lee (Jimmie) and Beverly Manning; brother and wife, Carl and Claudine Wimmer of Copper Hill, VA.; a sister and husband, Rheba (Toots) and Warren Richard of Springfield, VA.; Three grandchildren and spouses, Michael and Julie Manning of Lynchburg, VA., Paula Tompkins of Roanoke , VA. and Michelle and Chris Woods of Mt. Juliet, TN.; six great-grandchildren; and three step great-grandchildren; numerous nieces and nephews. The family would like to thank Skyline Nursing and Rehab. Ctr., Floyd, VA., relatives and friends who cared for her and supported her during her long illness.Flowers will be appreciated, or memorials may be made to Copper Hill Church of the Brethren, 8838 Floyd Hwy. N., Copper Hill, VA. 24079. Funeral Services will be held Saturday, February 2, 2013 at Copper Hill Church of the Brethren at 11:00 am. with the Reverend Marty Moyer officiating. Interment will follow in the church cemetery. Friends may call after 1:00 pm. Friday, February, 1, 2013 where the family will be from 6 to 8:00 pm at Gardner Funeral Home.Arrangements by Gardner Funeral Home, Floyd, VA. (540) 745-2007. Online condolences may be made by visiting www.gardnerfuneralhomefloyd.com.
---
Guest book
Lane @Lynda Wimmer
Wirtz, Va
January 31, 2013
You are in our prayers and thoughts.We will miss you. Even though we didn't visit, we always knew you were there for us. You were a person we could look up to. Love, your nephew,Lane Wimmer
---
Gerald and Vicky Via
Roanoke, VA
February 01, 2013
Our thoughts and prayers are with you Jimmy and the rest of the family. As I was growing up and into my adult life I always enjoyed seeing Nubbin. She was always funny and told it like it was. She'll be missed.
---
Grace Kelley

February 02, 2013
---
Grace Kelley
Myrtle Beach SC
February 02, 2013
Jimmy and family, so sorry for your loss. Aunt Mabel was always so much fun at the reunions. I remember her with a smile and know you will as well. Love to you all.
---
Debbie Richard
Los Angeles
February 03, 2013
We all had some great times with Nubbin. These times are now memories for us to keep as Nubbin moves on to a better place where one day we will all meet up with her and our other loved ones. May she rest in peace. My condolences to Jimmy and his family.
---
Janet W. Pratt
Wirtz, VA
February 24, 2013
My son Gary and I want to give our condolence to the Manning family. We will always remember her sweet smile.
---
Sign the Guest Book for Mabel Wimmer Manning