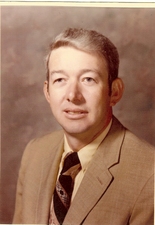 John Dennis Harman
December 25, 1935 - February 17, 2013
John Dennis Harman, of Copper Hill, VA departed from his earthly home to his heavenly home surrounded by family and friends on Sunday, February 17, 2013 to join his loving wife of 53 years and his parents, Waitman and Chloe Harman. Born on Christmas Day, 1935, John was 77 years of age. In early life, John worked with his father in the timber industry. After graduation from Check High School and Bridgewater College, John joined the United States Marine Reserves. He became an educator at Check High School and Floyd County High School, and earned his Master's Degree from Radford College during this time. After serving the Floyd County School System for 18 years, he became a full-time farmer raising beef cattle. John was a life-long resident of the community and a member of Copper Hill Church of the Brethren where he served as Church Treasurer, Deacon, Trustee, and Sunday School teacher. John was dedicated to the community, friends, family, and church. John is survived by his sister-in-law, Nancy B. Bandy and husband, George (Bill) Bandy, Jr.; nephews, Stephen Angle, Van and Janice Angle, Noah and Crystal Bandy, and Andrew Bandy; niece, Winona and David Baker; foster sister, Dorothy Williams and family, Sandra and Lynn Shumate, Paul and Carolyn Williams, Terry and Judy Williams, and Janean Williams; special cousins, Sherrell Poff, Sam Wilson, Marie Williams, and Alvah Mae Harman; special cat, Blackberry. A memorial service will be conducted at 2 p.m. on Sunday, February 24, 2013 at Copper Hill Church of the Brethren with the Reverend Marty Moyer, the Reverend Maurice Wright, and the Reverend Douglas Jones officiating. Interment will follow at Copper Hill Cemetery. Friends may call at Gardner Funeral Home after 2 p.m. on Friday, February 22, 2013 where the family will be from 2 p.m. until 4 p.m. and 6 p.m. until 8 p.m. In lieu of flowers, memorial contributions may be made to Copper Hill Cemetery in care of Charles Smith, 8358 Deer Run Drive, Copper Hill, VA 24079. The family extends their gratitude to Lewis-Gale Medical Center, Carilion Hospice, Home Instead of the New River Valley, caregivers, friends, and family for your love and kindness for John. Condolences to the family may be made at www.gardnerfuneralhomefloyd.com. Arrangements are being handled by Gardner Funeral Home, Floyd.
---
Guest book
Jessie & Peggy Howard
Roanoke,va
February 19, 2013
Our Prayers and thoughts are with you and your family during this time of grief.
---
Missy
Rke, va
February 21, 2013
Our thoughts and prayers are with you during this difficult time
---
VanCleave family
Salem, VA
February 22, 2013
We send our condolences to the family and friends of the Harman family. Mr. Harman was a true friend and neighbor to all and demonstrated his care in the community.
---
Katherine Lucas Naff
Norwalk. Oh
February 24, 2013
Deepest sympathy at this time. John was a great teacher and so was Ruth. I was blessed to have both when I attended FCHS.
---
Janet W Pratt
Wirtz, VA
February 24, 2013
May God's hope-filled promises bring comfort to your soul and peace to your heart. With heartfelt Sympathy.
---
Sign the Guest Book for John Dennis Harman