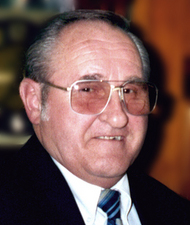 Charles Gilbert Keller
August 25, 1940 - February 20, 2013
Charles Gilbert (Chuck) Keller, 72, of Radford, Virginia, passed away Wednesday, February 20, after an extended illness. Chuck was born in Wernersville, Pennsylvania on August 25, 1940 to the late Charles Hiram Keller and Ila Merle Hylton Keller. He was a member of the Church of the Brethren. After graduating from Wilson High School, he worked at Spring Grove Hospital in Maryland, where he met a nursing student who would become his wife of 53 years, Joan Patterson Keller. After a short time in Baltimore, he and Joan moved to the New River Valley where Chuck first worked for his aunt, Bess Hylton Pullen, at Hylton's Fruit Stand. He worked for many years as a route salesman for Holyfield Food Company selling Wise Potato Chips and later for Southwest Virginia Tobacco Company. He retired from Hunter Snack Foods in Radford in 2006. He is survived by his wife Joan Keller, son Michael Keller, daughter-in-law Leslie Shiel, beloved granddaughter Jordan Elizabeth Shiel Keller, sister and brother-in-law Gloria and Allan Knappenberger, brother-in-law and sister-in-law John and Shirley Harrah, as well as nieces, nephews, and cousins, all of whom will remember his kindness and mischievous sense of humor. Funeral Services will be held on Monday, February 25, 2013 at 2 pm. at Gardner Funeral Home Chapel with the Reverend Jerry Hylton officiating. Interment will follow at Laurel Branch Cemetery. Friends may call at Gardner Funeral Home between 1 and 2 pm prior to the funeral services on Monday, February 25, 2013. Flowers will be appreciated or donations may be made to Laurel Branch Cemetery C/O Robert Weeks 3948 Floyd Hwy S. Floyd, VA. 24091. Arrangements by Gardner Funeral Home, Floyd, (540) 745-2007.Online condolences may be made to the family by visiting www.gardnerfuneralhomefloyd.com.
---
Guest book
Peggy Houchins Day
Meadow Bridge, WV
February 22, 2013
Dearest Joan and Michael, You have mine and Brian's deepest sympathy for your loss. Just know that you're in our prayers. We love you. Come see us when you can. Take care.
---
Elaine Morgan
Greenville, NC
February 22, 2013
Dear Joan, Michael, Leslie and Jordan, Scottie and I are so sorry for your loss. He was a wonderful person, sweet, loving, caring for his family. Know the care you gave him was appreciated in his heart and a wonderful testimony of your genuine love for him. In our thoughts and prayers. Scottie and Elaine
---
Aaron and family
Cary, NC
February 22, 2013
Our thoughts are with the family during this time. Aaron, Pooneh, and Kia
---
Jeff and Margaret Stouffer
Greencastle, PA
February 22, 2013
Dear Joan and family, Our deepest sympathy to you and your family. We will so miss seeing Chuck at the Hylton reunions. Our thoughts and prayers are with you all. Margaret
---
Susan Williams
Richmond, VA
February 22, 2013
Dear Michael and Leslie, I'm so sorry to hear of your father's death. Because of my mother's illness, I have some idea of what he and you have been going through over the last few years, and I know how deeply grieved all of you are now. Please let me know if I can do anything for you.
---
Mary Garrett
Dripping Springs, TX
February 23, 2013
Dear Joan, Michael, Leslie and Jordan- Ron & I are so sorry to hear about your loss. May the support of family/ friends and memories held deep within your heart help soothe your spirit during this difficult time. Sending hugs and prayers.
---
Elizabeth Cooper

February 24, 2013
Dear Joan, Michael, Leslie, and Jordan, I'm deeply sorry for your loss. I know you all loved Chuck very much. He was blessed to have such a loving family as you. I'll always see Chuck on the eating porch at Hot Springs, laughing and telling stories, and making us all feel moments of release from our griefs at the time. Thank you for your messages. I think I will not try to drive down for the funeral, but I will set aside the hours to be especially with you in spirit Elizabeth
---
Elizabeth Cooper
Richmond, VA
February 24, 2013
Sorry I made a technical mistake in the last signing. I was trying to add to my last post that I will always be with you in spirit. Elizabeth
---
Mike, Heidi & Sydney Glasgow
Madison, CT
February 25, 2013
Dear Mrs. Keller, Michael, Leslie and Jordan, We are keeping you in our thoughts and prayers. Mike, Heidi and Sydney
---
NIck Frankel
VCU, Richmond
February 25, 2013
My condolences to the entire Keller family. As Michael is aware, I know something of what you are going through. My thoughts and good wishes are with you.
---
Nick Sharp
Richmond, VA
February 25, 2013
I'm very sorry for your loss. My sympathy and best wishes to the whole family.
---
Richard Fine
Richmond, VA
February 25, 2013
I'm sorry for your loss, Michael, and just wanted you to know I am thinking of you today.
---
Willa Humenick

February 26, 2013
My sympathy and prayers for relatives and friends of my cousin.
---
Bob and Barbara Shellenberger
Richfield, PA
March 05, 2013
Dear Joan, Michael and family: We extend our condolence to each of you. I will always remember Chuck's smile and great sense of humor. May you find comfort in the hand's of our Lord and Savior.
---
Sign the Guest Book for Charles Gilbert Keller