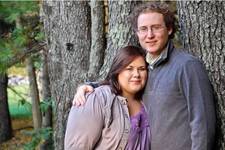 Lorrie Elizabeth Fenn
March 14, 1983 - March 15, 2013
Lorrie Elizabeth Fenn (Burger) of Floyd, VA, formerly of Dunbar, WV, passed away unexpectedly at the age of 30 on March 15, 2013. Lorrie is survived by her loving husband Joshua B. Fenn, parents Donald C. and Nanette Burger of Dunbar, sister Stephanie and brother-in-law Erick Dingess of Sod, WV, best friend Jasmine McClain of Huntington, WV, aunt Colletta Gray of Dunbar, aunt and uncle Margaret and Brian Spurlock of Dunbar, grandmother Hilda Burger of Dunbar, grandfather Charles W Gray of Conway, SC, and great aunts Rhoda Asbury of Marmet, WV, and Vallie Mitchell of Dunbar. Lorrie was born March 14, 1983 in Charleston, WV. She graduated from South Charleston High School in 2001 and attended Marshall University pursuing a degree in graphic design. She moved to Brooklyn, NY in 2006 and to Floyd, VA in 2008. Lorrie recently opened her own business called Lorrie Creates with an office in the Town of Floyd. She was a very talented young lady with a love for life that knew no bounds. She adored her husband and their life together. Lorrie is so loved by so many and will be greatly missed by all that knew her. Funeral services will be held at Zion Lutheran Church in Floyd, VA on Sunday, March 17, 2013 at 3 p.m. with visitation 1 hour prior to the service and at Keller Funeral Home in Dunbar, WV on Tuesday, March 19, 2013 at 11 a.m. also with visitation 1 hour prior to the service. In lieu of flowers please send donations in honor of Lorrie to the American Heart Association or Ronald McDonald House.
---
Guest book
Linda and Clay Quesenberry
Floyd, VA
March 18, 2013
It is heartbreaking to see you go; You lived your life so full and Josh and you were so happy together. This community will miss you terribly. Your talent, your sweet smile, your inspiration. Clay and Linda
---
Margo Johnson Healy
Boise, ID
March 18, 2013
I am so sorry to hear of your wife's passing. It seems too much for anyone to bear to lose two loved ones in such a short time. My heart goes out to you. I am your dad's cousin in Idaho. We grew up together in Oregon. I am thinking about all of you and offering prayers for your comfort. God bless. Margo
---
marilyn and russell scaggs
raleigh nc
March 18, 2013
Thoughts and prayers are with you all.
---
May God give each of you the needed comfort and strength at this truly difficult time. Find encouragement in our heavenly Father's promise that not only will death soon be no more, but also that we will be reunited with our dear loved ones on a restored paradise earth. (John 5:28,29; Acts 24:15) Revelation 21:4 says: "He will wipe out every tear from their eyes, and death will be no more neither will mourning nor outcry nor pain be anymore." My heartfelt prayers for the family.
---
Sign the Guest Book for Lorrie Elizabeth Fenn