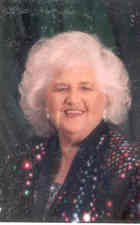 Lossie Mae Dickerson
October 01, 1929 - September 30, 2009
Lossie Mae Dickerson, age 79 of Ridgeway, VA Passed away Wednesday Sept. 30, 2009. She was a member of Spring Street Baptist Church. She was preceded in death by her parents Guilliver & Effie Mae Ballinger, former husband Ras Dickerson, daughter Phyllis Strader, brothers Clyde Carson Ballinger, Guy Ballinger, sister Irene Smith, and a grandchild Jeramiah Strader. She is survived by five daughters Wanda Haskins, Brenda Weiss, Nellie Graham, Lilly Martens, and Patricia Thacker, one son Russell Dickerson. Two Sisters Sylvia Keith, and Helen Campbell, three brothers Ward Ballinger, Bob Ballinger, and Kirby Ballinger, Fifteen Grandchildren, Nine Great-Grandchildren, many nieces and nephews. Funeral Services will be at 11 AM Saturday Oct. 3 at Gardner Funeral Home with Rev Joseph Hamilton and Rev. Stephen Lackey officiating. Interment will be in the Ballinger Family Cemetery. Friends may call Friday after 11 AM at Gardner Funeral Home where the family will be from 6 until 7:30 PM. Arrangements by Gardner Funeral Home, Floyd, VA. Online condolences may be sent to www.gardnerfuneralhomefloyd.com.
---
Guest book
Christie Moricle
Eden, NC
October 02, 2009
Termite, You & your family are in my thoughts and prayers.
---
Buddy Childress
Ridgeway,Va
October 02, 2009
Sorry for your loss,I know this is a hard time.
---
Nelson Smith
Va Beach, VA
July 13, 2016
My condolences to the family of Lossie. I dated two of her daughters, Wanda and Brenda, back in 1969.
---
Sign the Guest Book for Lossie Mae Dickerson