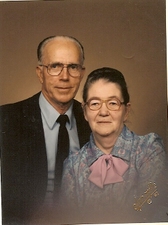 Virginia Willis Aldridge
May 04, 1919 - April 22, 2013
Virginia Willis Aldridge, age 93, of Roanoke, and formerly of Check, VA, passed into the arms of her Lord and Savior surrounded by her loving family on Monday, April 22, 2013. She was a devoted and loving wife, mother, grandmother and aunt. She is preceded in death by her husband of 70 years, Bure C. Aldridge; her parents, Gruder and Nellie Willis; her brothers and sisters; Lena, Robert, Noah, Frank, Oscar and Ruby; her son-in-law George Woolridge; and her daughter-in-law Martha Lee Aldridge. She is survived by her children and their spouses: Mary Woolridge, Sheldon Aldridge, Dennis and Margaret Aldridge, Charles and Peggy Aldridge, Nelda and Barry Wray, Shirley Aldridge, Donna and Claude Hall; her grandchildren, Debbie, Darrell, Drema, Ricky, Ronnie, Becky, Richard, Fred, Charles Jr., Shelia, Travis, Joe, Brad, Chris, and Beth; 21 great grandchildren, 9 great, great grandchildren; 7 step grandchildren; and 5 step great grandchildren, her sister, Eva Aldridge; her brother, Marvin Willis; and numerous nieces and nephews. Funeral Services will be conducted at 11:00 a.m. on Thursday, April 25, 2013 at Gardner Funeral Home with the Reverend Marvin Barbre and the Reverend Leon Alley officiating. Interment will follow at Restvale Cemetery. Friends may call at Gardner Funeral Home on Wednesday after 6:00 p.m. where the family will be from 6:00 TO 8:00 p.m. The family would like to express their heartfelt thanks to Good Samaritan Hospice and Richfield Retirement Center for the special care and kindness during her illness. Flowers are appreciated or donations to Good Samaritan Hospice, 2408 Electric Road, S.W., Roanoke, VA. 24018 would be appreciated. Online condolences may be made at www.gardnerfuneralhomefloyd.com. Arrangements by Gardner Funeral Home, Floyd. (540) 745-2007.
---
Guest book
Melissa Gray
Rocky Mount, VA
April 23, 2013
Debbie Byrd: Sorry to hear about the passing of your grandmother, may the peace of God be with you.
---
Jean & Jim Alderman
Rocky Mount,Va.
April 24, 2013
---
Pam McAlexander
Floyd, VA
April 24, 2013
So sorry Donna to hear the loss of your Mother. She was beautiful and sweet inside and out. So precious. Love you!
---
John & Myra and Family
Floyd,VA
April 25, 2013
You all are in our thoughts and prayers.
---
Robert Deatherage
Collinsville, VA
April 25, 2013
Dear Nelda, I am so sorry to hear of your loss. I know words cannot help, but I want you to know you are thought of often and loved by many. I hope to see you soon. Deepest Sympathy, Robert Deatherage
---
Sign the Guest Book for Virginia Willis Aldridge