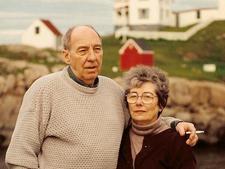 Richard Graham Clinger
August 13, 1934 - May 14, 2013
Richard Graham Clinger, age 78, of Floyd passed away Tuesday May 14, 2013. He served in the United States Army. Richard was the owner and pharmacist of Floyd Pharmacy for 40 years. He was a Lifetime Member of the Mayflower Society. He was preceded in death by his parents Glenn & Elmina Clinger, brothers and sisters Gene Elizabeth Clinger Nelson, Carolyn Mae Clinger Heasley, William Theodore Clinger, Glenn Pressey Clinger, Jr, Charles Douglas Clinger, and Robert Marsh Clinger. Survived by his wife of 52 Years, Christine Chacona Clinger. Three Children Case Christopher Clinger & Wife Beth, Cara Christine Clinger Barber, & Husband Roger, Richard Graham Clinger II, & Wife Margie. Seven Grandchildren Nova Cindel Willie & Husband Nathan, Derek Case Clinger & wife Viveny, Kennedy Christine Clinger, Richard Graham Clinger III, Gracenne Louise Clinger, Olivia Lee Barber, Avery Alexander Clinger. Four Great Grandchildren, Ryan Willie, Emma Willie, Alexa Clinger, Riley Clinger. One Sister Carolyn Clinger Heasley. Funeral Services will be at 11:00 AM Thursday May 16, 2013 at Gardner Funeral Home with Rev. Roy Turpin officiating. Interment will follow in Clinger Cemetery, Floyd, VA. Friends may call after 6 PM Wednesday May 15, 2013 at Gardner Funeral Home where the family will be from 6 until 8 PM. In lieu of flowers donations may be made to Medical Charities of Floyd 100 E. Main St. Suite 108, Floyd, VA 24091. The family would like to extend a special thank you to Alta Pickford of Hospice.
---
Guest book
Curtis and Stephanie Shelor
Dublin, Va
May 14, 2013
Dear Suzie and family, Our deepest sympathies in the loss of your loved one! May God be with you all during this time and in the journey ahead. We will be praying for all of you!
---
Bill and Yvonne Lusk
floyd va
May 14, 2013
You are in our thoughts and prayers...your family has always treated me as one of your own and with the utmost respect...i love you both...and I'm here if you need anything......Yvonne
---
Silveon, Jean, Teresa, Greg and TaraWright
Check, Va
May 15, 2013
So sorry for you loss. We are praying for the family during this time of sorrow.
---
Carter Cox
Hillsville, Va.
May 15, 2013
Beth, Please accept my condolences for the family of Mr. Clinger. May God comfort all of you.
---
Eddie & Lisa Morris
Floyd, VA
May 15, 2013
Most Heavenly Papa we are saddened by the loss of a very special man, your child who was a very important part of each life he touched. We know your peace is given to us freely each and every day, but we ask for a little bit extra to be given to those who are dealing with the heartache of this loss in their lives. Help each to keep the memories they have alive in their hearts and minds and to be able to share with others what they chose so that their hearts can be lightened by each memory and each smile that comes across their face. In your most wonderful and glorious name we pray. Amen
---
Punky & Bob Jeffrey
St Petersburg, FL
May 15, 2013
Dear Suzie and family, Punky & I were sad to learn of your loss of Rich. We often think of those fun days all of us enjoyed growing up in Oil City. Our best to you and we are praying for you. Perhaps our paths will cross again - maybe in the Yellow Dog. Love, Punky & Jeff
---
Regina Bolt Dalton
Hillsville, VA
May 16, 2013
Dear Suzie, Cara, Casey, Richie and families, I am so sorry to hear of the passing of Richard. He was a fine man and I will always treasure the memories from the time I worked for him. He made coming to work a pleasure. His dry wit and humor helped make the day go by much faster. My thoughts and prayers are with each of you as you deal with his passing in your own special ways. Keep the memories of him dear to your heart. Those can never be taken away. Love, Regina
---
Cynthia Clinger Dobbins
Clarksburg, WV
May 16, 2013
Just learned that my Uncle Richard passed away. I remember when I was young when he came to visit my dad, Glenn (Corky) Clinger and mom, Joan, and we always had so much fun when he visited. He was quite the character. To my aunt and cousins: My thoughts and prayers are with you during this very sad time.
---
Joan Clinger (Mrs. Glenn)
Clarksburg, WV
May 16, 2013
My thoughts and prayers are with you. I imagine Richard and all his brothers, sister and parents are having a big reunion in Heaven.
---
Connie Wade
Floyd, Va 24091
May 17, 2013
The girls had graduation the same time as visitation and when we got done you all were gone. I will Treasure all the fun times we had working for Mr. Clinger. Me and Jonie have talked about the times and Laughed. He is in a better place now and i will see him again. Let us know if We can help with anything. Love you guys Peanut, Connie, Brandon, Karie,Karleigh, Chris, Mindy, Brooklyn,and Britney
---
Mary Jane Benson Baxter
Port Allegany, PA
May 18, 2013
My best to you and my prayers are with you, Mary Jane
---
martha welty minnicks
United States
May 23, 2013
Dear Suzi We just heard of Richard's death . We are so very sorry . We do remember all the fun times in OC . Rockmere, " The Huddle "" Famoores " It was a great life growing up when and where we did. May God hold you and bless all of you Would love to meet again , as was said, ......maybe at "The Yellow Dog. " In Christ's Love Martha ( Welty ) Minnicks and Paul ( Chip )
---
Sign the Guest Book for Richard Graham Clinger