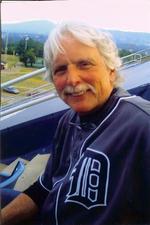 Michael Robert Touscany
May 01, 1950 - July 30, 2013
Michael Robert Touscany, 63, of Floyd, passed away on Tuesday, July 30, 2013. "Mike" was born 63 years ago in Detroit, Michigan. He grew up in a loving home, and enjoyed playing little league sports, Tigers baseball games, red wings hockey games, and fast cars. He played in several bands in the mid 60's. He met his wife, Sue Mistele Touscany, when they were seniors in high school. They married, and went to work in his father's store, "The Goodhousekeeping Shop" in Detroit. In 1982, they moved with their two daughters to Greensboro, NC where he took a position with "Circuit City". In 1995, they moved to Floyd, VA., and Mike transferred to the "Circuit City" in Roanoke. He was with Circuit City for 22 ½ years. In 2004, he became the night store manager at Lowe's on 220. In 2007, he became General Manager at Shoe Carnival until he retired in June, 2012. Mike was diagnosed with cancer 6 months after he retired. He fought a courageous fight, and was the perfect patient. If you knew Mike, he was a gentle, patient, funny, one-of-a kind guy. He will be greatly missed and never forgotten. Mike was a Christian, and knew he would one day be with his Savior. God's love and peace sustained him throughout his life and his death. Left to cherish his memory are his wife, Suzanne Mistele Touscany; daughters, Melinda Touscany Carr and husband, Brian, Nan Touscany Lamay and husband, Wayne; awesome grandsons, Grayson Carr and Payton Carr; sister, Sally Wilson; sisters-in-law, Jean Mistele, Nan Sierra, Sarah Bechler, Connie Snider, brothers-in-law, Britt Mistele, Ricke Snider, Paul Bechler, David Sierra; beloved nieces and nephews, and his precious mother-in-law, Louise Mistele. He also leaves behind his faithful dog, "Rico". Lifelong friends, Jim Holloway, Mike Daly, and Carol Szalega. Special thanks and gratitude to Good Samaritan Hospice: April, Pam, Lydia, Heather, and Darlene. We could not have done without you. Special thanks to Joe Womack, C.W. Turner, and hairdresser, Ashley. Funeral services will be conducted at 1 p.m. on Saturday, August3, 2013 at Gardner Funeral Home Chapel with the Reverend Joe Womack officiating. Interment will follow at the Vest Cemetery. The family will receive friends one hour prior to the funeral service at Gardner Funeral Home. There will be no night visitation at the funeral home. Condolences to the family may be made at www.gardnerfuneralhomefloyd.com.
---
Guest book
Everette Martin
Walkertown, NC
July 31, 2013
Dear Sue, I have thought of you many times throughout the years. Those days working with you at Pleasant Garden Elementary were surely some of the best days of my life. You are especially in my thoughts and prayers at this time in your life.
---
Emily Meador
Hardy, Va
July 31, 2013
Cherish the memories you have in your heart forever. Sarah, Jeremiah and the entire family, you are in my thoughts and prayers during this most difficult time.
---
Rick Snider
Royal Oak Mi
July 31, 2013
You will always be with me.
---
Kay Vest
Roanoke, VA
August 01, 2013
Dear Sue, I am so very sorry to hear of the loss of your sweet husband. Please know that you are in my thoughts and prayers.
---
Richard Dryman
Greensboro NC
August 01, 2013
Sue & Family: May God wipe away each tear; JOY comes in 'the morning'. >> http://www.youtube.com/watch?v=aX7ucgWlusY&list=PL70D4F2FD9F51DE76
---
Sallyuller
Greensboro, NC
August 01, 2013
Dear Sue, so sorry to read the news this am about your sad news. My prayers are with you and your precious girls. Sally Muller
---
Charles and Pamela Coote
Greensboro, NC
August 01, 2013
Dear Sue, We were saddened by the news of Mike's passing. He was such a charismatic and kind person, who was always admired by so many people; especially the people that worked with him at Circuit City. Mike and I will always remember our conversations about Detroit and Motown and his days of playing a guitar. He was such a special person and he will surely be missed. You and your family are in our thoughts and prayers.
---
J.Howard Raleigh
greensborn,nc
August 01, 2013
may some measure of peace be found in your loss,mike was a great person to know and work with.you have my deepest symphony!
---
Jeff Fitzgerald
Roanoke, VA
August 01, 2013
Mike was my manager at Circuit City. I believe I was the longest-serving SOHO counselor he had, and we grew to be friends as well as associates. He was a great man, a great friend, and he taught me so much. I am fortunate to have known him. To his family, may I pass my deepest sympathies. May he pass from strength to strength, and may Light Perpetual shine upon him.
---
Shaun Yurcaba
Atlanta, GA
August 01, 2013
We are so sorry for the loss of Mr. T. But we rejoice in that he is singing and dancing in Heaven and probably the source of a lot of laughter too. We send you all our love during this time. We love will always remember him! Love, Shaun and all the Horsman
---
Kay Horsman & Family
Roswell, GA
August 01, 2013
Dear Sue, Nan, and Mindy: We love you all. We pray for peace and hope and comfort during this time. We remember all the good times in Greensboro and Pleasant Garden. Those were special memories with your family! Love, Kay Horsman
---
Mandie Bishop
Indian Valley, VA
August 01, 2013
I'm so sorry for your loss. You and your family will certainly be in mine and Travis's prayers. We love you!
---
Sharon Simmons
Greensboro, NC
August 01, 2013
May God's love comfort you during this difficult time. I'm so sorry for your loss. You are in my prayers.
---
Carol Szalega
Redford, MI
August 01, 2013
Sue was my best friend Senior year in high school. She met Mike and they built a wonderful, loving, spiritual life. We were separated for 40 years until we met up again at our Class Reunion. It was like we were never separated at all. Mike and Sue are my most treasured friends and they always will be because Mike will always be in my heart. I am honored to be a part of their lives and treasured every moment I had with Mike during his illness. He and Sue brought me back to my faith when I thought all was lost and I will be forever grateful for that. Mike showed me how to leave this earth with dignity, faith, and peace in one's soul which is something I thought I could never learn. Thank you Mike for that. And thank you for the wonderful friendship you gave me and built with my mother. She too will always keep you in her heart. You will be missed more than words can say, but somehow I know you will always be watching over us and loving us from Heaven. Sue, I love you with all my heart and will always be there for you whenever you need me. You and Mike are my extended family and although my heart is broken, I know that Mike will help us heal. Rest in the arms of Jesus, Mike, for I know that is where you are. I love you.
---
rocky and mary ellen carneal
roanoke va
August 02, 2013
Our heart goes out to you Sue and your family on your loss. I enjoyed working with Mike at CC. I always enjoyed Mike's great sense of humor. Rocky Carneal
---
Dot Ammeter
Greensboro, NC 27406
August 03, 2013
Dearest folks, We were so sorry to hear of Mike's passing. He was such a good neighbor when we all lived on Renville Drive. Mike was always ready to speak a kind word to everyone. We hope as the days pass that you will be filled with the peace and love of God in your hearts. May God hold you in the palm of His hands and may you realize that Mike will always be nearby. Sincerely, All of the Ammeters Tom-Dot-Andy and Susan
---
DC Peters II
Roanoke, VA
August 03, 2013
Family, my name is DC Peters II from Circuit City. I had no idea Mike had passed. I loved working with him. I helped Mike buy the "Mountain Goat" Jeep Cherokee years back. I'm saddened and delighted at the same time that he is with our Father In Heaven.
---
Ken Vogt
Philadelphia, PA
August 08, 2013
I have been at a loss for words since hearing about Mike a few days ago. I got to know the Touscany family through coaching their daughters in swimming. I had a 14 year swim coaching career and must have gotten to know thousands of families, but the Touscany family has always held a special place in my heart over all those years. Mike and Sue are always in my heart and I share in the loss of one of the greatest guys I have ever met. Mike had the best laugh and just listening to him made everyone around him chuckle. I know he loved the Lord, so my sadness is only in knowing he is not still around in case I got to run into him again. My best to the family on behalf of my family. Sincerely, Ken Vogt
---
Arleine Taylor
Check, Va.
August 08, 2013
Sue & Nina, So sorry to hear about Mike. My thoughts & prayers are with you. If you need anything please let me know. Love, Arleine
---
Stephanie Phelps Burr

August 13, 2013
---
Stephanie Phelps Burr
Asheboro, N.C.
August 13, 2013
Sue, Mindy and Nan I am so sorry to hear of the passing of Mr. T. I just found out today (8/13/13) My prayer for you and your family that God may wrap his loving arms around you and hold you tight while you go through these difficult times. Just know that Mr. T is with his heavenly father smiling and watching over you, that you may find comfort and joy through all of this. I have LOVED all of ya'll ever since I met Sue, when she taught me 9th grade Sunday School. Ya'll are such a Loving and Caring family. We love ya'll so much and miss ya'll!
---
Dean Bowles
Roanoke, VA
October 24, 2013
Sue, I am so sorry to hear of Mike's passing. He was my best friend at Circuit City and always took up for me. I will never forget his kindness. I remember when you and Mike first arrived at the store. He will be missed. God bless you and your family.
---
Vance &Mary Meyer
Spring Lake, MI
April 13, 2014
Sue, I was sorry to come across this as I was searching for friends from my past. I didn't know Mike well, but it looks like he was well loved by many. I'm so sorry - he was too young. I would love to catch up with you at some point, if you would like. Hugs to you and your family.
---
Richard Blanchard
Roanoke, Va
December 19, 2015
Mike was a good guy compared to D.C.Peters II. Whenever I had a problem at Circuit City I would talk to Mike and he would resolve it. I know that Mike is in a better place now.
---
Sign the Guest Book for Michael Robert Touscany