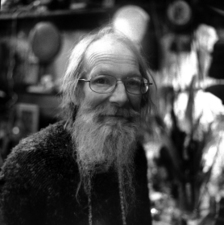 Samuel A'Court Ashe Bason
October 03, 1957 - August 17, 2013
Samuel "A'Court" Ashe Bason 10/3/1957 – 8/17/2013. A'court was born in Raleigh, North Carolina on October 3, 1957, son of Ruth Hollis Bason of Macon Ga. and William Ashe Bason of Raleigh, NC. A'Court was a one-of-a-kind musician, painter, creative writer and creator of several formats of spiritual art. Survivors include: Sons: Dorian Ashe Bason of Floyd Virginia, Bryndon Farris Bason and wife Jessica Bason of Floyd Virginia. Daughter: Triona Maya Bason of Floyd Virginia. Life partner of over 9 years Melody Cochran. Ex-wife and loving friend Paula Bason. Siblings: William Ashe Bason Jr. of Floyd Virginia and Searcy H. Bason of Blacksburg, Virginia. Grandchild: Aolani Grace Bason of Floyd Virginia. A friend recently wrote of his contributions as follows: "A'Court listens to the universe through the lenses of the natural world, creating art that is resonant with the rhythms of the cosmos and the creek, the sun and the flower, the actual and the imagined. His work takes you on a journey through your own spirit, reveling in celebration and revealing deep insight as to the undercurrent of existence." Words From Your Loving Son Bryndon: For a flower to show how it feels to know, is not as easy as it seems. Roots must dig deep below, leaves must stretch to show, and soak up warm sun beams. We gather what we need to grow, this energy all reap and sow. Bit by bit the best go slow, sip every drip of sweet loves glow. Then give the world your dreams, let them flow, with fall wind blow, into winter snow, and melt into springtime streams. A'Court's last words he shared with his friends on the world wide web were, "so much love, sow much love, show much love." A celebration of life will be held at a later date. Online condolences may be made at http://www.gardnerfuneralhomefloyd.com. Gardner Funeral Home is handling the arrangements. In lieu of flowers, donations and offerings may be sent to Ruth Bason or Melody Cochran at PO Box 626 Floyd, VA 24091.
---
Guest book
Dan Sweeney
Floyd, VA
August 20, 2013
I was deeply saddened by the news of A'Court's passing. My heart felt condolences to his family and friends.
---
The Johnsons
Fort Mill, SC
August 21, 2013
The world has lost a great, many faceted talent. The universe has gained one. We will miss A'Court's vision and otherworldly understanding, his ideas, music and art. But most of all, we will miss him. Our deepest sympathy to his family and many friends. The Johnsons Mike, Nanette, Sarah and Megan
---
My thoughts go out to the family during this difficult time. May the God of Comfort help you to cope until the time when death will be no more (2 Corinthians 1:3; Acts 24:15).
---
Sign the Guest Book for Samuel A'Court Ashe Bason