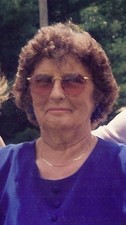 Irene Akers Nixon
October 04, 1914 - August 25, 2013
Irene Akers Nixon, 98, of Christiansburg, passed away on Sunday, August 25, 2013. She was born on October 4, 1914 in Floyd. Mrs. Nixon worked at the overall factory in her younger years, and her last employment of which she was very fond was Wade's Supermarket where she worked until she was almost 80. She was preceded in death by her beloved husband, John Thomas Nixon, Jr, her daughter, Shelby Kingrea, her parents, Mason and Willie Akers, and five brothers, Paige, Cleve, Jay, Ralph and George Akers. Surviving are three daughters, and sons-in-law, Ravanal and Bobby Huff, Charles Kingrea, Donna and Glenwood Martin, Judy and Denny Wells; seven grandchildren, Bobby L Huff, Stephanie Yates, Kimberly Ingram, Stacy Martin, Tammy Martin- Whorley, Kayla Chaffin, Matthew Wells; three step-grandchildren,; eight great-grandchildren a special niece, Lois Tatum, and a special friend and neighbor, Alonzo Hardy. She was dearly loved by her family and friends , and will be missed. Tammy was Granny's buddy, and the two went everywhere together, even Tech football games. Funeral services will be conducted at 11 a.m. on Wednesday, August 28, 2013 at Gardner Funeral Home Chapel with Minister Marlan Morris officiating. Interment will follow at Jacksonville Cemetery. Friends may call after 2 p.m. on Tuesday at Gardner Funeral Home where the family will be from 6 p.m. until 8 p.m. The family expresses thanks to a special caregiver, Tasha for the good care for the past four years and other caregivers, Aliver', Kathy, and Crystal in the recent months. Condolences to the family may be made at www.gardnerfuneralhomefloyd.com.
---
Guest book
Gail Moles
Riner, VA
August 26, 2013
Judy and family, She was a beautiful sweet lady whose longevity was God given. May God comfort you as you grieve and may his peace and love surround you today and in the days ahead. Rest in peace Irene.
---
Joe & Judith Sclafani
Christiansburg, VA
August 26, 2013
With deepest sympathy for your loss. We know how special Mrs. Nixon was to you all. Cherish your many memories and know that all those who have gone before will welcome her!
---
mollie mcgrath
Roanoke Va
August 27, 2013
May Jehovah keep you close in his arms and help you thru your most painful time but knowing Jehovah is with you to comfort and help peace come to you. Irene was a special person to all who met her a loving, compassionate one. May she rest in peace. Love, Charles & Mollie McGrath
---
Phyllis Echols

August 27, 2013
I'm so sorry for the loss of your sweet Mom & Grandmother. It's a difficult time for all of you; I'll be praying for you. Treasure your good memories!
---
Sign the Guest Book for Irene Akers Nixon