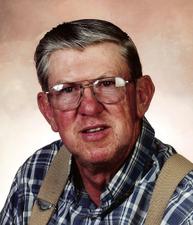 Tyler "Eugene" West
April 17, 1948 - October 05, 2013
Tyler "Eugene" West, 65, of Floyd, passed away on Saturday, October 5, 2013. He was preceded in death by his parents, Ralph and Melinda West, and one brother-in-law, Sam Midkiff. He was a school bus driver while in high school. After graduating from Floyd County High School in 1968, he went to work at Donkenney until it closed in 1982. He worked at Imperial Reading for a few months until he got a job at Radford University where he worked for 30 years planning for his retirement in December, 2013. During all of this time he maintained the family farm enjoying his cows, tractors, and especially his donkey, Jeanie. He is survived by one sister, Nancy Faye Midkiff; one brother and sister-in-law, Roderick and Faye West; one niece and spouse, Gina and Stu Straub; one nephew and spouse, Jason and Angela West. He is also survived by his aunts, uncle, cousins, friends, and neighbors. Funeral services will be conducted at 2 p.m. on Tuesday, October 8, 2013 at Gardner Funeral Home Chapel with the Reverend Michael Pugh, the Reverend Michael Bond, and Mr. Eli Yoder officiating. Interment will follow at the Williams Cemetery. Friends may call after 6 p.m. on Monday at Gardner Funeral Home where the family will be from 6 p.m. until 8 p.m. In lieu of flowers, donations may be made to Team Lowes for Relay For Life, 3062 Mud Pike Road, Christiansburg, VA, 24073 or to the Williams Cemetery in care of Charles Hall, 931 Starbuck Road, S.E., Floyd, VA 24091. Condolences to the family may be made to www.gardnerfuneralhomefloyd.com.
---
Guest book
Elwood & Sally Cox
Christiansburg, Va.
October 07, 2013
Elwood and I will always have the fondest memories of Eugene! He loved telling everyone how he would trick me by telling me that he was Roderick when I would be passing out payroll checks at Donnkenny. That memory was so many years ago but one that always brings a smile. I know that you have many memories that you will treasure always. Please know that we will keep you in our thoughts and prayers. "Casting all your care upon Him; for He careth for you." I Peter 5:7 Love, Elwood and Sally
---
Benny Skeens
Radford Va.
October 07, 2013
I worked with Eugene at Radford University. Eugene was a wonderful caring man who would help anyone who needed help. He always had a smile on his face and something nice to say. I will miss seeing him at work but I know that he is in a better place. May God Bless Eugene and his family!
---
Richard and Linda Kenley
RADFORD, VA
October 07, 2013
---
Ray and Mary Weddle
Floyd, Va
October 07, 2013
Eugene rode in the Tractor ride with us a couple years, He would always come, smiling to speak to us. I always enjoyed talking school days with him. Our thoughts and PRAYERS are with Nancy, Faye and Roderick, and Family. May GOD give you comfort and Peace.
---
Richard Hudson
Rocky Mount, Va
October 08, 2013
I sold Eugene an old John Deere 20 years ago. We've been friends every since. He would come to Rocky Mount often to visit me and my dad Charles and talk tractors. He will be missed. Our thoughts and prayers go out to the family. God bless.
---
Susan Harris
Dublin, VA
October 08, 2013
I remember Eugene well from my many years at Radford University. He didn't know a stranger and was always friendly to everyone he met. My prayers and thoughts are with the family during their loss.
---
Don Hall
Blacksburg, VA
October 08, 2013
I am sad to hear of Rodney's passing. I met him at Radford University and learned how important his family was to the folks in Floyd. He and I had many great conversations about our respective families and the connection between the two. I will miss our friendship greatly.
---
Jeanie Seay
Roanoke, Va.
October 11, 2013
I have fond memories of Eugene from my years at the RU Student Health Center. I knew when I saw Eugene walk in the health center that whatever repair we needed would be done right and that I might hear a tale or two. My heart goes out to his family.
---
Linda Haney
Riner, VA
October 12, 2013
Buddy and I are sad to hear of your loss. Eugene was a classmate of mine and although I did not know him well, he always was friendly and loved to talk about classmates or acquaintances. He will be missed by many. I am so sad he was never able to enjoy retirement. Everyone who works hard all their life deserves that. Our sympathy and prayers go out to Eugene's family.
---
Wayne & Wanda Gardner
Floyd
October 12, 2013
Our prayers go out to the family. Eugene would always stop and say hello whenever our paths crossed. He was truly a dear friend.
---
Ben Harmon
Olive Hill, KY
October 13, 2013
So sorry to learn of Eugene's passing. I remember him so well. Prayers
---
Kenny, Stephanie Yates
Floyd, VA
November 10, 2013
So sorry to hear of Eugene's passing, I grew up on the Franklin Pike and my father done alot of mechanic work for Eugene. I live now on Shooting Creek close to the mill and Eugene would drive up on his tractor every now and then to see the kids. You all are in our prayers, God Bless you all.
---
Sign the Guest Book for Tyler "Eugene" West