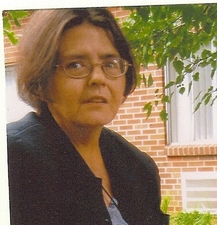 Linda Kay Gray
June 28, 1958 - March 03, 2014
Linda Kay Hill Gray, age 55, of Christiansburg, formerly of Floyd, passed away Monday, March 3, 2014. She is survived by her husband of 26 years, Wayne Gray; children, Travis Gray and fiancée Megan Hamblin and daughter, Meagan Gray; grandson, Jordan; father and mother, (E.C.) Everett C. and Opalene Hill; sisters and brothers-in-law, Brenda and Billy Hinkley, Carol and John Ridgely and Jane and Tom Cunningham ; brother, Paul Hill and several nieces and nephews. Funeral services will be conducted at 1 p.m. on Friday, March 7, 2014 at Gardner Funeral Home Chapel with pastor Wallace Yopp officiating. Interment will follow at Beaver Creek Church Cemetery. Friends may call from 11 a.m. to 1 p.m. at the funeral home prior to the funeral services. Online condolences may be made to the family at www.gardnerfuneralhomefloyd.com. Arrangements are being handled by Gardner Funeral Home, Floyd, VA., (540) 745-2007.
---
Guest book
Betty and Ed Bindas
SAlem, Va
March 05, 2014
Please know that we are praying for all your family!! May GOD bless and keep you through all the sadness ....!! The Gray family have always been such a blessing to me at church..know that I shall continue to pray for all of you!! A friend from Elliston Church of God.... Betty and Ed Bindas
---
Randy and Jennifer Hill
Fincastle, VA
March 05, 2014
Our thoughts and prayers are with you.
---
Bertha Martin
Dublin VA
March 08, 2014
I am so sorry to hear about Linda's passing away. I haven't seen her for many years, but she use to be a good friend. I use to live in Plum Creek, and then later on in Christiansburg. I use to come and visit her, and a couple times I babysitted with her children, of course they are grown up now. May God be with the family now to comfort them. May the memories of Linda be with you each and everyday to help you bring the peace and comfort that you need. God Bless. Bertha Martin
---
Judy Thomas Weddle
United States
March 16, 2014
I was so sorry to hear of Cousin Lindas passing. Prayers for the family. I'm sorry I did not hear about it before her funeral, I would have been there to support you all. Much love, Judy Thomas Weddle
---
Sign the Guest Book for Linda Kay Gray