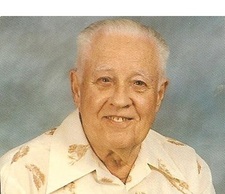 Robert Michael "Bob" Schmitt
February 04, 1922 - March 05, 2014
Robert M. "Bob" Schmitt, age 92 of Floyd VA, passed away November 16, 2013. Mr. Schmitt served 2 years in the U.S. Navy during WWII and 25 years for the Baltimore City Fire Department. He retired and moved to Floyd, VA where he worked 20 years on the Blue Ridge Parkway as caretaker of the Smart View picnic area. He was preceded in death by his wife of 49 years, Pauline Grace (Leppert) Schmitt, who died on June 11, 1999. He is survived by a daughter & son-in-Law, Rosemary & Curtis Johnson of Astoria, Oregon; two sons & daughters-in-law, Robert & Deborah Schmitt of Myrtle Beach, SC and James & Shirley Schmitt of Forrest, VA. Six Grandchildren, Christopher Johnson, Sean Johnson, Michael Schmitt, Brian Schmitt, Lisa Lyman, and Christy Tolbert. Five Great Grandchildren, Nea & Elli Johnson, Matthew Lyman, and Blake & Anna Tolbert. Funeral Mass will be celebrated Saturday May 3, 2014 at 11:00 AM at All Saints Catholic Church in Floyd, VA. The family will receive friends Friday May 2 from 6 until 8 PM at Gardner Funeral Home, Floyd, VA. In lieu of flowers donations may be made to All Saints Catholic Church Building Fund, 598 Needmore Ln NE, Floyd, VA 24091. Mr. Schmitt requested that all come dressed casual and that no one wear black clothing. Arrangements by Gardner Funeral Home, Floyd, VA (540) 745-2007. Online condolences may be made at www.gardnerfuneralhomefloyd.com
---
Guest book
Roy and Joyce Gary
Baltimore, MD
March 13, 2014
Please accept our deepest sympathy in your loss. We hope all of you will find comfort in knowing that your Dad is safe and at peace now. Roy and Joyce Gary
---
Rebecca Yearout Eggleston
Roanoke Va
March 17, 2014
I first prayed for his safe return and as time passed, that God would be merciful and give you closure. I'm so sorry for all your dreadful wait, and finally for your grief and your great loss. God be with you all. Rebecca
---
Leesa Peters Meador
Georgetown, SC
March 22, 2014
Dear Rosemary, Bob and James, I am so very sorry to hear of your dad's passing. You were fortunate, as was I, in having a loving, devoted father who left you with precious memories. I love the picture you posted of him smiling for that is how I remember him. Always smiling. Keep that picture in your heart until you see him again. My love to you all.
---
Denis G. McMahon
Dagsboro, DE
March 22, 2014
Bob and I worked together for several years after my transfer to "FIRE ALARM" My wife and I send our deepest sympathies to the SCHMITT Family on Bob's death. He help me to learn the "bell system" and their meanings. REST IN PEACE, BROTHER!
---
Steve and Barbara Wedell
Astoria, Oregon
May 01, 2014
Our family is thinking of you as you're grieving a loss and celebrating a life that touched many loved ones. We will be here to comfort you or help you if needed during and after this difficult time. With love, The Wedell Family
---
Prayers So Sorry For Your Loss Of Your Loved One. I Knew Your Dad And GrandPa From Shopping At Krogers In Christiansburg. He Always Had A Smile On His Face Be Greatly Missed.
---
Sign the Guest Book for Robert Michael "Bob" Schmitt