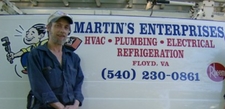 Frank Elvin Martin
February 07, 1959 - March 18, 2014
Frank Elvin Martin, 55 of Floyd passed away Tuesday, March 18, 2014 after a courageous year long battle with cancer. Frankie followed in his father's footsteps as an experienced repairman of all things electrical, plumbing, heating & air, refrigeration and mechanical. He enjoyed serving his customers and took great pride in his work. He enjoyed the challenge of figuring out how things work. He was a Dale Earnhardt fan and loved Chevrolets. He was a founding member of the Indian Valley Fire & Rescue Station 4 and proud of his time he served with them. His greatest joys were his "Little One" and "Littlest One" (Cindy & Savannah). He was preceded in death by his parents Elvin & Frances Martin, 11 Aunts & Uncles. He is survived by his daughter Cindy Martin Weaver; granddaughter, Savannah Rose Weaver both of Floyd; son-in-law, Lee Weaver; brothers & sisters-in-law, Paul & Barbara Martin of Floyd, Glenwood & Donna Martin of Christiansburg; sister & brother-in-law, Norma Jean & Edwin Conner of Copper Hill; aunts and uncles Chlonetia & Arlie Thompson, Spud Webb, James & Frances Proffit all of Floyd, Mavin & Jack Steel of North Carolina, Coreen Martin of Christiansburg, Richard & Helen Atkins of Elliston, Margaret Jones of Salem; nieces and nephews, Cecil Martin, Leisa Martin, Tammy Martin-Whorley, Stacy Martin, Sandy Huff, and Teresa Martin; special friend and caregiver, Rhonda Rayburn. Daisy, his potbellied Yorkie. Funeral services will be conducted at 11 a.m. on Saturday, March 22, 2014 at Gardner Funeral Chapel with the Reverend Roy Turpin officiating. Interment will follow at Jacksonville Cemetery. Friends may call on Friday after 1 p.m. at Gardner Funeral Home where the family will be from 6 p.m. until 8 p.m. In lieu of flowers donations may be made to Floyd County Fire Department. Condolences to the family may be made at www.gardnerfuneralhomefloyd.com. Arrangements are being handled by Gardner Funeral Home, Floyd VA. (540) 745-2007.
---
Guest book
Connie Harman
Floyd, Va
March 20, 2014
So sorry for your loss, Frankie was always the same with a smile on his face. There to help anyone any time or any where. A great loss to everyone. God Bless the family. Connie Harman
---
Angie Sowers

March 20, 2014
There are not enough words to describe what a wonderful person that Frankie was. My heart grieves for this special family. Always know how much each of you are loved and cared for. May God wrap each of you in His arms during this time and the times to come. Rest In Peace, Frankie. Your battle is now done and I know you are rejoicing pain free in Heaven. With Love Always, Angie Sowers & Family
---
Lane&Debbie Thomas
Floyd,Va.
March 20, 2014
You will be greatly missed.You will always be in our hearts,and prayers.
---
Rebekah Hall
Willis, VA
March 20, 2014
Cindy & Savannah, I'm so sorry for your loss. May God give you comfort today and the days to come. Stay in the Word where you will find strength and peace through the loss of your dad and for anything else that will come in your way. The Lord puts many obstacles in our paths to draw each of us closer to Him. We will be praying for you and your family. Stay encouraged.
---
Cephas & Paige Dalton
Willis, VA
March 21, 2014
Cindy and Savannah, Our thoughts and prayers are with you during this time. You are both very special. May God comfort you.
---
Donnie and Linda Bolt
Willis Va 24380
March 21, 2014
Sorry about Frankie,he will truly be missed.He was a good friend and a very hard worker.We known Frankie since teenagers.May God Bless u and your family.
---
Steve, Angela & Lucas Graham
Floyd,VA
April 12, 2014
We are so saddened by your loss. We have known Frankie for years. As with many other people, he did work for us, at times.We will continue to pray for you both.Let God give you strength.Psalms 91:2.God is with you.
---
Sign the Guest Book for Frank Elvin Martin