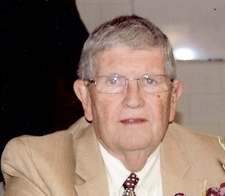 Reverend Newton Joseph Burnside, Jr.
June 30, 1937 - March 19, 2014
Reverend Newton Joseph Burnside, Jr., of Copper Hill, slipped away to heaven on March 19, 2014 at the age of 76. He was employed by Appalachian Power Company for 37 years as Operations Coordinator. He retired early to enter the ministry. A graduate of Berean Bible College in December 1994. He has served as pastor in Roanoke and Salem and presently at Blue Ridge Chapel Assemblies of God in Floyd, Va. Served as Honor Bound Director for 13 years in the Appalachian District, traveled to Africa and India spreading the gospel. He was a man with a humble spirit who had love for his fellow man. Joe was preceded in death by his first wife and mother of his children, Brenda; his parents, Newton and Alma Burnside. Leaving behind to cherish his memory are his wife of 36 years, Jeannette Wimmer Burnside; his daughter, JoAnn Burnside of Nashville, Tn.; son, Jerry Burnside of Roanoke, Va.; Sister and brother-in-law, Sylvia and Jim Hardwick of Abingdon, Va.; Brothers and Sisters-in-law, John and Nancy Burnside of Radford, Va. , Richard and Andrea Burnside of Florida; His mother-in-law, Mrs. L Z Wimmer; as well as many nieces, nephews and a host of friends near and far. The family will receive family and friends at Gardner Funeral Home, Floyd, Va. on Saturday, March 22, 2014 with visitation from 4 to 7 p.m. A Celebration of his home going will be held on Sunday, March 23, 2014 at 2 p.m. at Gardner's Chapel with Reverend Irvin Steidings , Reverend David Dillon and Reverend Calvin Hickson officiating.Interment will follow in Huffville Cemetery. The family requests that memorials be made to Eastern Appalachian Teen Challenge, P.O..Box 19385, Roanoke, Va. 24019 or Teen Challenge , P.O.Box 980, Athens, West Virginia, 24712. Online condolences may be made to the family at www.gardnerfuneralhomefloyd.com. " Well done my good and faithful servant"
---
Guest book
Gail Tankersley
Floyd
March 20, 2014
What a priviledge it was to know Joe. No matter where I saw him, he always had time to talk and to share God's love. Can you imagine the world he is in now, being surrounded by his loved ones, singing with the angels, and being in the presence of our father, God, and his precious son, Jesus! My thoughts, prayers and love are with you all.
---
Marty Shrewsbury
Roanoke, VA
March 21, 2014
JoAnn, I am so sorry to hear the sad news. Please know that you are in my thoughts and prayers.
---
Arthur & Mary Stockner
Copper Hill, VA 24079
March 21, 2014
Jeannette, Know we our here for you if you need anything. Love & Prayers
---
Moore, Fred & Bootsie
Salem, VA
March 21, 2014
Our dear, dear friend of 60 plus years. We loved you dearly & will miss you so much. You have been our Pastor, prayer partner and close friend through the joyful and sad times. You are in heaven and we will see you in God's time.
---
Varana Manning
Roanoke
March 21, 2014
Joann, I'm thinking of you and your family during this difficult time.
---
Sheryl Cobbs
Franklin Co.
March 21, 2014
So Sorry for your loss. I worked with Joe at Apco until he retired. I used to tease him about eating the snowball cookie and drinking a diet Pepsi. Thanks to Joe witnessing to me, I started going back to church and was baptized. He was a good man.
---
Lois Peterson
Roanoke, VA
March 21, 2014
Jeannette, I am thinking of you and your family with love and prayers. Blessings to all of you. Lois Sirry Peterson
---
MARY ANN AND WILLIAM DUNCAN
COPPER HILL, VA
March 21, 2014
MRS. BURNSIDE, WE ARE THINKING OF YOU. IF THERE IS ANYTHING WE CAN DO FOR YOU, YOU KNOW THAT WE WILL BE THERE. LIKE I TOLD YOU IN THE HOSPITAL, THERE IS A SPECIAL PLACE FOR REV. BURNSIDE IN HEAVEN. LOVE YOU AND WE ARE THERE FOR YOU.
---
Wayne & Nancy McGuire
Vinton, VA
March 22, 2014
Jeanette - Praying for you and hurting with you. Joe will always have a special place in our hearts.
---
Marvin and Mary Jacobs
Vinton, VA
March 22, 2014
Dear Jeanette, Jerry, and JoAnn, To us it was a blessing to have known Joe. We continue to keep you in our prayers in this time of sorrow.
---
Ernie and Sandy Rakes
Roanoke, VA 24012
March 22, 2014
Jeanette, We were so shocked on learning that Joe had gone to his Heavenly reward. Joe served his Master well as a minister of the Gospel of Jesus Christ and as a personal friend. May the Holy Spirit abide with you and comfort you in the days ahead. Ernie Rakes, (Salem Camera Club)
---
Michelle McGuire Culbertson
Kingsport, TN
March 22, 2014
Jeanette, JoAnn, & Jerry, I was so sorry to hear about Joe's passing, he held a very special place in my heart. I was just watching an old video tape the other day with him in it. I'll be praying for all of you.
---
Laurie Terrell
Clemmons, NC
March 22, 2014
Jerry So sorry to hear of your dad's passing. My thoughts and prayers are with you and your family at this time. Mom sends her deepest sympathy to your family also.
---
JIM GREGORY
SALEM, VA
March 23, 2014
CONDOLENCES TO THE FAMILY. JOE, LIKE HIS FATHER, HAD A VERY SUCCESSFUL CAREER AT APCO WHERE HE MADE MANY LASTING FRIENDSHIPS BEFORE ENTERING THE MINISTRY. HE WILL CERTAINLY BE MISSED BY FRIENDS AND FAMILY.
---
Janet W Pratt
Wirtz, VA
March 23, 2014
I just got back home from SC and read the papers. So sorry to hear of your loss.
---
Sharron Harris Honaker
Roanoke, VA
March 24, 2014
Jeanette and Family, I was so sorry to hear of your loss. May your many memories comfort you.
---
Kevin Lane
Roanoke, VA
March 25, 2014
Jo Ann & Jerry, I was sorry to hear about your father. Your family is in my thoughts and prayers.
---
Sign the Guest Book for Reverend Newton Joseph Burnside, Jr.