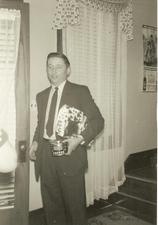 James David Yeatts
February 20, 1924 - June 07, 2014
James D. Yeatts of Charlottesville, VA passed away June 7, 2014. He was a World War II veteran, having served in the U.S. Army Air Corps in France & Germany. He saw action days before The Battle Of The Bulge, and was awarded the Purple Heart. He was born February 20, 1924. His parents were Thomas Alfred & Mary Ollie Blackwell Yeatts. He was preceded in death by six brothers; Joe Paul Yeatts, Thomas Lewis Yeatts, Dr. Silas Terry Yeatts, James Cook Yeatts, Thomas Alfred Yeatts Jr. and Edwin Lee (Ed) Yeatts. Six Sisters; Estella Yeatts Whitlock, Ruby Bell Yeatts, Mary Ester (Mae) Hester, Annie Pearl Graham, Cella Wade and Ethel Smith. One Sister-in-Law Helen K. Yeatts. He is survived by numerous nieces and nephews and a dear friend Lottie Hurt. Funeral services will be held Tuesday June 10, 2014 at 2 PM at Gardner Funeral Home, Floyd, VA, with Rev. Roy Turpin officiating. Interment will follow in Jacksonville Cemetery with military graveside rites by Floyd VFW Post #7854 and American Legion Post # 127. Friends may call from 1:00PM – 2:00 PM Tuesday June 10, 2014 at Gardner Funeral Home where the family will be. Online condolences may be made at www.gardnerfuneralhomefloyd.com. The Family is being served by Gardner Funeral Home, Floyd, VA (540) 745-2007.
---
Guest book
Jacqueline Young
United States
June 09, 2014
You have my deepest sympathy Jackie
---
carleton luck
nellysford, va.
June 09, 2014
Dear Jim Yeatts Family, Jim owned the house next to us on Greenleaf Lane in Charlottesville. He was our owner neighbor and a regular neighbor for I could see his house on Delmar Drive from our back yard. We were on Greenleaf for 37 years, so we got to know Jim very well over the years. I don't think there is anyone any nicer and more considerate than Jim was. He was a Virginia gentleman in the truest sense of the word. We were very sorry to read about his death in the Daily Progress this morning. Please accept our kindest sympathies. Fondly, Carleton and Joan Luck
---
Georgia Gilmer
Charlottesville
June 10, 2014
I was very saddened to hear of Mr. Yeatts death. While he may have been reserved he was the heart of our neighborhood and I will miss him. I will always remember the quiet way in which he made me laugh and smile. Heaven has gained one incredible man.
---
Bruce Gordon
Charlottesville, Va
June 11, 2014
My father John Gordon, now 99 years old, and Jim were friends throughout their lives. Dad always admired Jim for his intelligence and his ability to do and fix anything. Dad worked with Jim on some of Jim's first real estate investments and always used him as an example to us children of how one could succeed in life through hard work, and being honest and trustworthy.
---
Sign the Guest Book for James David Yeatts