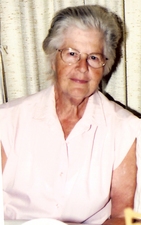 Louise Hubbard Sewell
April 22, 1931 - June 20, 2014
Louise Hubbard Sewell passed away on June 20, 2014 at her home of 53 years in Floyd after a long illness. She began life in Meadows of Dan on April 22, 1931 and was the seventh of ten children born to George McKinley Hubbard and Bertie West Hubbard. Louise was preceded in death by her parents, her sisters Pauline Cruise and Christine Kirk, her brothers Ralph Hubbard and Dayton Hubbard, and her grandson Jeremy Bruce Sewell. She is survived by her loving family: her husband of 60 years, Kenneth Marden Sewell, her two sons and their wives Roger and Vera Sewell, and Douglas and Karen Sewell, and her two daughters and their husbands Mary and Bery Vest, and Tracy and Christopher Campany. Louise is also survived by four sisters: Juel Sewell, Callie Snead (and husband, Junior), Hope Harris, and Beatrice Stovall, and brother, Bill Hubbard (and wife, Wavie), seven grandchildren, six great grandchildren, and numerous nieces and nephews who loved and will miss her. Louise loved flowers; her large, pleasant garden filled with flowers of myriad colors and sizes attracted the attention of travelers on Black Ridge Road for years. She was the valedictorian of her Meadows of Dan High School graduating class, and she worked hard to pass along her love of reading and the desire for education to her children. Louise was a loyal American Red Cross blood donor, donating gallons over the course of her lifetime. She was an accomplished quilter and seamstress who created many beautiful quilts. Louise was a dedicated wife, homemaker and parent; to say that she worked hard and tirelessly is an understatement. Funeral services will be conducted at 11 a.m. on Monday, June 23, 2014 at Gardner Funeral Home Chapel with Pastor Jeffrey Ell officiating. Interment will follow at the Hubbard Cemetery. Friends may call on Sunday at Gardner Funeral Home where the family will be from 6 p.m. until 8 p.m. Condolences to the family may be made at www.gardnerfuneralhomefloyd.com.
---
Guest book
Joey Snead and Tammy Peters
Rocky Mount, VA
June 23, 2014
We are sorry for your loss. Louise will be greatly missed. Please let us know if there is anything we can do.
---
Margaret Murphy
Roanoke Va
June 23, 2014
Our thoughts are with family Life Member Club Telecom Pioneers of America Friendship and Care Retired workers
---
Ricky Cox
Floyd County
June 23, 2014
Dear Sewell Family: I was sorry to learn of your family's loss. I know that Mrs. Sewell was a fine, intelligent, and thoughtful person because she passed all these qualities on to each of her children. Ricky Cox
---
Dear Doug and Karen, So sorry to hear of your mothers death. I am thinking of you and your family. Sending love, Cappy
---
Naomi Lea Sewell
Culpeper, VA
June 24, 2014
Dear Uncle Marden, Mary, Tracy, Roger and Doug: Mama and I both would have liked to have been there for the visitation Sunday evening and the services on Monday. Mama is not able to travel that distance. Her feet and her back are hurting her so much, and she is so unsteady on her feet that I was afraid to leave her. Both of us will miss Aunt Louise. We love all of you so much. Naomi Lea Sewell Annie Juel Sewell
---
Sign the Guest Book for Louise Hubbard Sewell