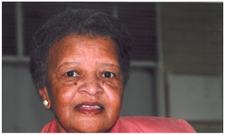 Mary M. Keys White
March 02, 1936 - July 05, 2014
Mary M. Keys White, of Floyd, on July 5, 2014 an angel quietly took our dear one away at the age of 78. She was born March 2, 1936 to the late Granville and Geraldine Keys. At an early age she confessed her faith in Christ and remained a dedicated and faithful Christian as long as health permitted. She was united in marriage to the late Herbert C. White, Sr. To this union two children were born; Master Sgt. Herbert C. White Jr. ( Retired ) Crestview, Florida and Vendella White-Tucker ( David ) Powhatan, Virginia. Those left to cherish her memories are three grandsons; Herbert C. White III, Daniel L. Tucker and Dondre M. Tucker; one granddaughter, Tatyana White; two sisters Henrietta Gibson, Ferrum, Virginia and Ann Meyhew, Mt. Vernon, NY.; one brother, Frank Keys, Washington, DC. , and a host of special nieces, nephews and friends. Funeral Services will be conducted at 3:00 p.m. on Saturday, July 12, 2014 at Gardner Funeral Home Chapel with Rev. Sheila Thomas officiating. Interment will follow in Jacksonville Cemetery. Friends may call between 2:00 and 3:00 p.m. prior to the funeral services on Saturday, July 12, 2014. Online condolences may be made to the family at www.gardnerfuneralhomefloyd.com. Arrangements are being handled by Gardner Funeral Home, Floyd, VA. (540) 745-2007. In lieu of flowers donations may be made to Mt. Zion, CWF, Church, 115 Scales Rd. NE, Floyd, VA. 24091 or The Local Relay for Life Chapter in Floyd.
---
Guest book
John and Myra Helm
Floyd,VA
July 09, 2014
You all are in our thoughts and prayers. We send our deepest sympathy.
---
Joyce Reed
Floyd Va
July 09, 2014
Worked with Mary at H & V, she was such a lady with a beautiful smile. May your memories give you comfort during your time of sadness and loss. A friend Joyce Reed
---
Wayne
Inwood, WV
July 10, 2014
Rest In Peace, Cuz will miss you.
---
Mike Ferguson
Ferrum, VA
July 10, 2014
Herbert and Della, I just wanted to let you know that you're in my thoughts and prayers and that I will continue to be in prayer in the days and weeks to follow. May God give you strength to move forward and to love one another as always.
---
Lacey and DeLois Jackson
Crestview, Fl
July 10, 2014
To the White family in your time of sorrow, go straight to God in confidence and you will be strengthened,enlightened,and instructed.
---
Deronda Bishop
United States
July 10, 2014
My deepest sympathies to the family. May God surround you with His deep and abiding comfort and my each of you take comfort in knowing that she is in the arms of a Loving God. Her struggle here on Earth has provided her with rest in Heaven. Take hold of the hope of the Promise that He has made to all of us "to be absent in the body is to be present with the Lord". God Bless you all during your hour of bereavement.
---
First Baptist Church,
Rocky Mount, VA
July 10, 2014
The Pastor and members of First Baptist Church - Rocky Mount, VA extend our condolences during the loss of your family member, Sis. Mary Keys White. Hope it helps to know that God is holding her in His arms and holding you in His heart. Our thoughts and prayers are with you. Pastor Samuel J. Anderson & The FBC Family
---
Verdna (Bert Ferguson Claybrooks

July 10, 2014
Sorry To Hear about the passing of your love one
---
JANES YOUNG
RENTON,WA
July 10, 2014
---
JoAnn C. Young
Ferrum, VA
July 11, 2014
I was so sorry to hear of the death of Mary Keys White, My deepest condolunces go out to her children, sibling, Henrietta, Annie and Frank and all of her bereaved family. Remembering all of you in prayer.
---
James & Nancy Ferguson
Ferrum, VA
July 11, 2014
Sorry to hear the passing of loved one. our prayers are with the family. We love you
---
Adcock Family
Powhatan, Va
July 11, 2014
Ours prayers are with you and your family. We love you!
---
Theresa Reed
Christiansburg,VA
July 12, 2014
I am very sorry for your loss. I know Mary is resting in peace. She was my roommate in the hospital. She was a trooper. She was such an inspiration to me in the hospital. She always had such a positive attitude. I became very fond of her in those 6 days I knew her and will always remember her. I am so glad I got to share those days with her. May god bless you all. Love, Theresa Reed
---
Lewis & Monica Stuart
San Francisco, ca
July 12, 2014
Wishing you comfort in the thought your loss is shared today by those who care and sympathize far more than words can say. Praying for your family. With deepest sympathy, Lewis, Monica, Nadia, Mariah & Bria Stuart
---
Sign the Guest Book for Mary M. Keys White