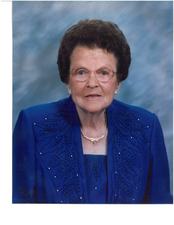 Ruby M. "Ma" Gray
May 24, 1917 - July 16, 2014
Ruby M. "Ma" Gray, age 97, of Floyd, passed away Wednesday, July 16, 2014. She was born to John C. and Bertha Conner Rierson on May 24, 1917 in Check, Va. the youngest of eight children. Mrs. Gray was preceded in death by her husband of 58 years, Douglas A. Gray, whom she loved and missed deeply. She is survived by her daughter and son-in-law, Mary and Bobby L. Gardner; grandson and wife, Bobby L. , Jr. and Joy Gardner; granddaughter and husband, Elizabeth and Andy Reynolds; Four great-grandsons, Adam Gray Gardner, Baily Douglas Gardner, Zachary Shane Reynolds and Nathan Ryan Reynolds. She married on September 29, 1940 and moved to Floyd where she and Douglas owned and operated Gray's Store. Later, she worked along side her daughter, Mary in Mary's Beauty Shop. In 1974, they opened the Little Dress Shop, and in 1997, Her granddaughter, Elizabeth joined them. She served the public for 73 years. She enjoyed her work and the people she met. She loved her Church family at Red Oak Grove and their visits and cards. Her enjoyment was her family, working, gardening and cooking. She enjoyed her many potted flowers ( 200 + ), and picking out black walnuts " always a busy lady". She looked forward to special holidays and cooking her large meals, cakes and pies (a bed full ). She always expressed her blessings from God for watching over her all her many years. "I would like to live my life over just as it was. God is good." Now she has an even better life. Funeral Services will be conducted at 11:00 a.m. on Saturday, July 19, 2014 at Gardner Funeral Home Chapel with the Reverend Elbert Naff, Reverend Jimmy Cannaday and Reverend Hebron Quesenberry officiating. Interment will follow at Jacksonville Cemetery. Friends may call anytime after 8:30 a.m. Friday, July 18, 2014 where the family will be from 6 to 8 p.m. In lieu of flowers, donations may be made to the Red Oak Grove Church Building Fund, P.O. Box 513 Floyd, VA. 24091 or The Floyd Fire Department, P.O. Box 33, Floyd, VA. 24091 or The Floyd Rescue Squad, P.O. Box 257, Floyd, VA. 24091. Online condolences may be made to www.gardnerfuneralhomefloyd.com. Arrangements by Gardner Funeral Home, Floyd, VA. (540) 745-2007.
---
Guest book
Keister Whitt
Danville, VA
July 17, 2014
Sorry to hear about your loss. It was amazing Mrs. Gray was able to work for 73 years in public service.
---
Sherry Leonard Noble
High Point, NC
July 17, 2014
Mary and family I am sorry hear about the death of your mother. My prayers are with you during this time may the many memories you have of her be the fondest treasures you hold close to your heart.
---
Gail Tankersley
Floyd
July 18, 2014
When I read of Ms Gray's passing, I thought about how happy she now must be as she is reunited with her ones that had gone before her. Then I thought about when I was young, going with mom to "Mary's" to get her hair done, and how we would go into the back area and how Ms Gray would help mom to find something that was just what my mom was looking for. I also thought about the sweet lady that would sit in the front of the chapel during the Christmas Memory Services, and how she would accept the flowers for her loved ones, and I could see the love and pride she had for all of her family members. What a precious lady. My love and prayers are with you all as you go thru these days. God bless each of you and may he hold you in his arms.
---
Jean Wright
Floyd, VA
July 18, 2014
She will be missed. My sincere prayers for all of her family. I always loved her smile and greetings in the Dress Shop.
---
Becky Moran
woolwine VA 24185
July 18, 2014
So sorry for your loss! She was such a sweet lady and she will be missed may she rest in peace My thoughts & prayers are with you all through this difficult time. Love Becky
---
Tommy Rumburg
Roanoke.Va
July 19, 2014
To Bob, Mary, and family. I'm very sorry to hear of Ruby's passing. I had heard that she had been doing poorly lately. She was a great lady and a wonderful friend to Mom and our family, as you all are. Our thoughts and prayers are with you all at this time of grieving. I'm sure Ruby is having some great reunions now and one day we will all see her, Mom ,and other loved ones again. God bless you and all your family.
---
Angel and Stacy Spangler
Floyd, VA
July 19, 2014
To the Gardner and Reynolds families: So sorry to hear of the loss of your loved one, Mrs. Gray. Please know that you all are in our thoughts and prayers today and in the days to come. May God comfort each of you and give you strength and peace. Stacy, Angel, Riley and Mia Spangler
---
Patsy East
Floyd, Va
July 20, 2014
Mary, I'm saddened by the loss of your dear sweet mom. May God give you and your family peace and comfort at this difficult time. Love you
---
Vergie Sutphin
Floyd, VA
July 20, 2014
I am so sorry about your loss. You're in my thoughts and prayers.
---
Rob Finch
Altavista, VA
July 21, 2014
I'm so very sorry to hear of your loss. She had such a long life that was obviously lived well but it is still difficult to give up those we love so dearly. Judy and my prayers will remain with you. Sincerely, Rob and Judy Finch
---
Debbie Wall
Vistar Eye Ctr, Roanoke, VA
July 28, 2014
I was so saddened to here of Mrs Gray's passing. I will truly miss seeing her here in the clinic & her wonderful hugs! She was such a special lady. She brightened my day whenever she was here. My love & prayers are with the family. I'm so glad I got to be a part of her care. God bless you all. Sincerely, Debbie Wall
---
Betty Lambert
Christiansburg, VA
August 11, 2014
I was unaware of Ruby's death until my friend, Nancy, from Blacksburg told me (we were out of town). I just wanted you to know that your family is and will continue to be in our thoughts and prayers. Over the years, I have always enjoyed coming to The Little Dress Shop in Floyd (Nancy told me about it and we often came to shop and have lunch at The Blue Ridge Restaurant). Everyone there has always been so friendly and helpful. I know Ruby will be missed by all who had the privilege of knowing her.
---
Sign the Guest Book for Ruby M. "Ma" Gray