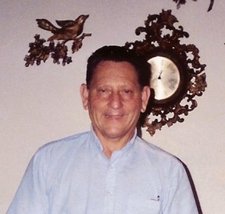 Johnny Overstreet
January 17, 1943 - February 11, 2010
John (Johnny) Lewis Overstreet, of Floyd, VA, passed away on Thursday morning, February 11,2010 at his home due to heart problems. He was born in Bedford, VA on January 17, 1943, and was a graduate of Stewartsville High School in Bedford, VA. He served in the United States Army, and in Vietnam. He retired from Hubbell Lighting in Christiansburg, VA after working there twenty-six years. He enjoyed working outdoors, loved going on trips with the Seniors' Young At Heart group at Floyd Baptist Church, and being involved with other activities they had there, especially anything that involved eating. He was preceded in death by his parents, Claudie Eugene Overstreet and Helen Virginia Andrews Overstreet, and two brothers, Frank Eugene Overstreet, and Douglas Wayne Overstreet. He was a very devoted husband to his surviving wife of thirty-six years, Nellie Linkous Overstreet, who loved him very much, and will greatly miss him. He is also survived by four sisters and three brothers, Marjorie and Walter Frazier of Damascus, MD, Shirley and Jim Gottfried, Lima OH, Mary Lee Weatherspoon, Raleigh, NC, Francis Johnson, Bedford, VA Tommy Overstreet, St Mary's OH, Bobby Overstreet, Bedford, VA, Francis (Otey) Overstreet, Staunton, VA, and many nieces , nephews, great nephews, and great nieces. Funeral services will be conducted at 2 p.m. on Sunday, February 14, 2010 at Floyd Baptist Church with Dr. Dave Holladay officiating. Interment will follow at Jacksonville Cemetery. Friends may call on Saturday after 1 p.m. at Gardner Funeral Home where the family will be from 6 – 7:30 p.m. A service with military honors will be conducted at Gardner Funeral Home at 7:30 p.m. on Saturday by Floyd V.F.W. Post # 7854 and Floyd American Post # 127. Condolences may be made to the family at www.gardnerfuneralhomefloyd.com.
---
Guest book
Melanie,James, Zelda
Floyd Va
February 12, 2010
Nellie, We are saddened to hear of the passing of Johnny. He will be greatly missed. He always had a kind word and always threw up his hand even though he didn't know who he was waving at. You are in our thoughts and prayers. May God surround you with His loving and comforting arms. May God lift you up in these difficult days ahead, and know that you are never alone.
---
Joyce Markley
Tallahassee, FL
February 12, 2010
Nellie: I am so sorry for your loss; my thoughts and prayers are with you. Love, Joyce
---
Frances Johnson
Bedford VA
February 13, 2010
My prayers are with you. We are going to miss him. Love Frances & Family
---
Pat Mahoney
Adamstown,Md
June 06, 2010
My Prayers are with the Oversteet family Trishie
---
Sign the Guest Book for Johnny Overstreet