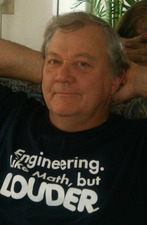 Marion DeHart Dickerson
April 03, 1954 - October 16, 2014
Marion DeHart Dickerson, beloved husband, father, grandfather, and friend left this earthly plane on October 16, 2014. He will be dearly remembered and missed by his wife Judith Robin Dickerson and the many children and friends whose lives he touched over the years. He is survived by his son and daughter in law Walter and Carol Dickerson, step son and daughter in law Shawn and Ashley Cox, step son Jeremy Cox and fiancé Elizabeth Cluxton, step daughter and son in law Bronwen and Jeremy Valentine, grandchildren Euan Marion Dickerson, Aiden Cox, Lincoln Cox, Mason Cox, Pheonix Valentine, Serenity Valentine, Caitlin Mitchell, great grand daughter Aurora Bryant, and daughter of the heart Molly Cox. Marion was born on April 3,1954 in Morgantown, WV. His favorite childhood memories were of times spent on his grandparent's farm in Willis, VA. Marion graduated from Fairmont State, West Virginia with a degree in Manufacturing Engineering and moved to Willis where he established Dickerson Machine and Design. Marion loved the beach and referred to himself as an engineer and part time beach bum. He loved his family, his work, reading, and listening to music, especially Leonard Cohen. "There is a crack in everything, that's how the light shines in." Please donate to Multiple Sclerosis research.
---
Guest book
May the gentle hand of God touch your hearts with peace.
---
Ronnie C. Bishop
Floyd, VA
October 19, 2014
I knew Marion for around 25 years. I mowed grass around his shop and hauled him firewood for his shop and home. I was raised on the farm and went to work at the sawmill at age 15. I knew sawmills and loggers and enjoyed that life very much. I met Marion when he started making sawmills. I couldn't believe how sawmills had changed over the years, and we enjoyed talking about the mills. The woodstove in my basement is one that Marion made. He was a hard worker, good friend and neighbor and customer. He will be dearly missed.
---
Sherman Keith & family
Willis. Va
October 19, 2014
We are so sorry to hear about your loss. I know he was a good man and loved by everyone. Your family is in our thoughts and prayers.
---
Sign the Guest Book for Marion DeHart Dickerson