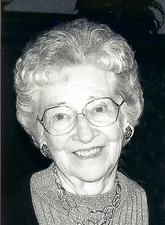 Dorothy Belcher
December 24, 1925 - February 13, 2010
Dorothy Agnew Belcher, born December 24, 1925, passed away Saturday, February 13, 2010 with her family by her side. She was preceded in death by her parents, Daniel and Effie Mae Agnew; her husband, Raymond Belcher; two brothers, D. J. Agnew, Ward Agnew; sister, Iris Yeatts. She is survived by her daughters, Judy B. Crowe, Karen B. Bolt and her husband Ronnie. Her grandchildren, Russell Crowe, Kadesh Hubbard and her husband Johnathan, Cayman Bolt; also, two great-grandchildren, Kesla and Javen Hubbard; sister, Barbara Nolen; brother, Jim Agnew and his wife, Edna; several nieces and nephews. We her family know that we have lost a very special person. Mom was an example of a life lived for Christ. She was faithful to bear her loved ones up in prayer continually, and we know our lives will feel her loss, but we know she is with her Lord and Savior. Even in her last months, and her mind diminishing, she still knew her Lord, and that she wanted to go home to be with Him. Funeral services will be held at 11 a.m. on Tuesday, February 16, 2010 at New Haven Baptist Church with Rev. Leon Wood and Rev. John Chambers officiating. Interment will follow at Jacksonville Cemetery at a later date. Friends may call on Monday after 12 noon at Gardner Funeral Home where the family will be from 6-8 p.m. Condolences may be made to the family at www.gardnerfuneralhomefloyd.com.
---
Guest book
Marie Lester
Floyd Va.
February 15, 2010
Judy, After reading in the morning paper of your mother's passing it brought back many childhood memories of sitting around the table with you after spending a fun night at your house and your mom serving breakfast and the beautiful smile she had. Hold onto all the wonderful memories you have, they will take you through the days and weeks ahead. I'm glad we were childhood friends and even if we are not in touch now I will always remember those times. Thinking of you at this difficult time. Marie Salmons Lester
---
Steve and Kathy Akers
Christiansburg
February 15, 2010
Judy and Karen, I was saddened on reading your mother passing this morning. Both your mother and father were extremly caring people and role models for others. Your family has always been my family in our hearts. We will keep you in our thoughts and prayers.
---
Joanna Claytor
Floyd,VA
February 15, 2010
So sorry to hear of the passing of your mother. God is by your side and will give you the strength to carry you through. Joanna Claytor
---
Ray and Susan Sowers and girls
Floyd, VA
February 15, 2010
Karen, Judy and family, We are so sorry to hear about your mom. She was such a wonderful person. Always willing to offer love and encouragement to others. We know that she is with Gaye in the arms of Jesus now and they are so happy!! We love you guys and will pray for you during your loss.
---
Amy Bolen
Floyd VA
February 15, 2010
Karen, I'm so sorry to hear of Dorothy's passing. I have many memories of watching mom fix her hair. She was a wonderful lady, always positive and a real joy to be around. I know how hard it is to lose your mother, but let your memories give you lots of comfort. I'm sure shes rejoicing in heaven with mom this very moment. God Bless, Amy Bolen
---
Robin Belcher Shepherd
Vinton, VA
February 15, 2010
My dear special family - My heart is so heavy for you but joyous in the knowledge that Aunt Dorothy is now at peace and happy w/our Lord, Uncle Raymond, her mom and siblings, and my mom and daddy. What a wonderful reunion for them! The pix you chose and the words are so much like her. She will be missed and may God and good memories bring you peace in days to come! Your family is so special to me and I love you all!
---
Sharon Brammer Allred
Kernersville, NC
February 15, 2010
Judy and Karen and families, What a fitting tribute for your wonderful mother! I know how hard it is to give up your mother but also know that God can give comfort and strength as you remember with thankfulness all the blessings He gave through her life and testimony. I have wonderful memories of good times at your house growing up and of seeing her at church when I came back to visit. I'm sorry I won't be able to attend the service, but I'm away on a business trip. Please be assured of my love and prayers. Sharon
---
Leesa Meador
Georgetown,SC
February 15, 2010
You are in my prayers for I know your sadness but I also know your peace for your dear Mama is now with her Lord and we can only imagine the glory she is in. May God's presence be with you.
---
Hendrick Family - Brent, Gwen, Jennifer, and Kevin
Roanoke, VA
February 15, 2010
Aunt Dorothy will truly be missed. She was one in a million. All our love to you Judy, Karen, and the whole family. Love you all!
---
Joyce McGrady
112 Jackson Circle, Radford, Va.
February 17, 2010
Karen and Judy, I cannot even imagine the heartache that you are going through right now. I know you both have such kind tender hearts. Know that God is with you at all times and he will help get you through this. I have it yet to face and know if will be a heartbreaking experience. You both are on my mind and I pray for your comfort in knowing that your mother is in a better place. I know the pain will still be there no matter what. Love you both, Joyce
---
Shelva Hoffmann
Chesapeake, VA
February 26, 2010
To Dorothy's Family: I am the daughter of Waitie & Geneva Ratliff. I know that Dorothy & my Father are first cousins. I am so sorry to hear of her passing. I do remember Dorothy when I was growing up in Floyd. I also remember Iris & James. My thoughts & prayers go out to all of the family. I saw Dorothy's beautiful picture in the Floyd Press. Love, Shelva
---
Sign the Guest Book for Dorothy Belcher