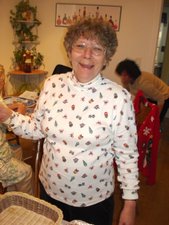 Agnes Elizabeth Smith Olmo
May 17, 1942 - February 28, 2010
Agnes E. Olmo, 67 of Copper Hill, VA and formally of Brooklyn, NY, passed on Sunday February 28, 2010. She was preceded in death by her beloved husband Richard J. Olmo Sr. She is survived by her mother Virginia M. Smith. Children, Ginger Garbarino, husband Tony. Kathy Williams, husband Terry. Richard J. Olmo Jr. wife Debbie. Denise Webster, husband Richard. Grandchildren Anthony, Danielle, Joseph Garbarino. Larry, wife Heather, Kara, Richard Williams. Sadie, Jazmine Webster. Loving aunt, Catherine Alberti and uncle James Murphy. Special thanks to friends Maryann Williams and Patty Neal. Funeral Services will be Friday March 5, 2010 at 2:00 PM at Gardner Funeral Home. Family will receive friends at the funeral home Thursday from 1 until 3 PM and 6 until 8 PM. She was an avid animal lover, always enjoyed crafts and collecting Disney movies. In lieu of flowers, memorial donations may be made to Breast Cancer Research or ASPCA. Online condolences may be sent to the family at www.gardnerfuneralhomefloyd.com
---
Guest book
Deborah Williamson
Roanoke VA
March 03, 2010
I am very sorry to hear of Aggie's passing. She was always a colorful personality in the Orvis warehouse crowd. I always got such a kick out of the way that she would barge into Gregg Alexander's office and tell him what was on her mind whenever the notion struck her. She talked about her family often and I know that you all will miss her greatly.My condolences to you.
---
Kelly & Trish Williams
Woodlawn, VA.
March 03, 2010
Kathy, We are so sorry to hear of your mother's passing. You and your family will be in our thoughts and prayers. Kelly R. Williams & Trish Simpkins Williams
---
Virginia Building Services of Roanoke, Inc
Roanoke, VA.
March 04, 2010
We, your "family" here at VBS send you our deepest condolences. Our thoughts and prayers are with you during this time of need. Keep your faith strong in knowing that she is in a better place, free of any pain and suffering. Hold tight to those precious and fond memories that you will retain of the good times that were shared.
---
Joyce Harper
Des moines Iowa
March 05, 2010
I am real sorry to hear about your mom. You know i was her internet sister for 7 yrs or more. I am going to miss her a lot. She is in peace now.My two girls and I will always have the family in our prayers. I know what it to lose a mother. Love to all. Joyce
---
Sign the Guest Book for Agnes Elizabeth Smith Olmo