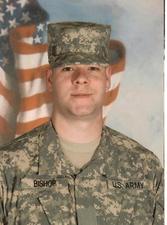 CPL Steven Jesse Bishop
January 17, 1981 - March 13, 2010
CPL Steven Jesse Bishop, 29, of Christiansburg, VA, and formerly of Floyd, VA, went to be with the Lord on Saturday, March 13, 2010 due to cardiac arrest while serving his country in Iraq. He was preceded in death by his grandparents, Jesse and Freda Bishop and Gleve and Ibra Huff. Leaving to cherish his memory are his parents Pastor Clyde H. and Cleo "Lucille" Bishop of Floyd; two sisters Angela Graham and husband Steve and Stacy Bishop and Mike Carroll; one brother Daniel Bishop and wife Jennifer, all of Floyd; nephews and niece Lucas Graham, Matthew Evans, Kaylee Bishop, Jesse Bishop and Isaac Bishop; and special friend Becky Stump. Steven was a 1999 graduate of Floyd County High School and was employed with Steel Dynamics, Inc. Steven joined the United States Army Reserves in April 2008 and volunteered for deployment to Iraq in May 2009, because he felt like doing his part to make a difference for his country. He was assigned to the 422nd Civil Affairs Battalion, 352nd Civil Affairs Command, U.S. Army Civil Affairs and Psychological Operation Command stationed in Greensboro, N.C. Steven will always be remembered for his smile, infectious laugh and never meeting a stranger. He was adventurous and loved a challenge. Steven was proud of his family and friends and was honored to serve his country. Funeral services will be held at 2 p.m. on Wednesday, March 24, 2010 at Floyd Church of God with Pastor Michael Bond and Dr. Michael Baker officiating. Interment will follow at Jacksonville Cemetery with full Military Honors. The family will receive friends on Tuesday at Floyd Church of God from 4 until 8 p.m. Flowers are appreciated, however, in honor of Steven's wishes; contributions can be made to the Floyd Church of God, 1026 Floyd Highway S, Floyd VA 24091. Arrangements by Gardner Funeral Home, Floyd.
---
Guest book
June & Rick Syx
Willis
March 16, 2010
Stacy and family, Words cannot express our deepest sorrow for you at this time. If we can help in any way please do not hesitate to call.
---
My prayers are with the family
---
Gail Osborne
Winston-Salem, NC
March 17, 2010
Stacy, you and your family are in my prayers during this time of sorrow.
---
Rebekah Stump
Christiansburg, VA
March 17, 2010
To the Bishop Family, Im so sorry for your loss. I loved Steven so much. You are all in my thoughts and prayers and if you need anything please do not hesitate to call. Steven, What can say. We had fun over the years. I really hoped once you came back we could settle down and start dating again. I know we talked about it last you were in. Im going to miss you so much. Im just shocked and heartbroken and want to know why. You were such a good person and so good to me and my family. Ill see you on the other side babe..love, Becky
---
Glenn & Susan Conner
Floyd VA
March 17, 2010
As you grieve know that we are remembering you and honoring the memory of Steven. We pray the love of God enfolds you during your journey through grief. We are praying and thinking of you during this most difficult time. Love you all Glenn and Susan Conner
---
Phillip Owens
Radford VA
March 17, 2010
Stacy and Family, My Prayer for you and your family is that God will comfort you all and give you all strength to get you through days, weeks, and months ahead. May the LORD bless you all and comfort you in this time of sadness. Christian Love, Phillip Owens
---
chris & jennifer weddle
willis va.
March 18, 2010
---
Stacy and Angel Spangler
Floyd, VA
March 19, 2010
To the entire Bishop family: We are so sorry to hear about Steven's passing. You all are in our thoughts and prayers today and in the difficult days ahead. May God give you the peace and strength needed during this time. Please let us know if there is anything that we can do. God Bless! Stacy, Angel, Riley and Mia Spangler
---
David and Mary Swortzel
Floyd, Va
March 21, 2010
To all of the Bishop family, We are very sorry to hear of your loss. Steven was such a fine man. He loved to come by to see Justin and talk to us too. We will miss him dearly. We will keep all of you in our thoughts and prayers.
---
Linda Alexander
Winston Salem, NC
March 21, 2010
To a true American Hero, God Speed.
---
Susan Kanode
Harrisonburg, VA
March 22, 2010
I do not know you or your son, but I felt I needed to let you know how terribly sorry I am for your loss. I have a son, 24, who joined the army at 17. He's been to Iraq twice and now serves in the Army Reserves. I had to let you know that I thank you and your family for his service to our country. Our young people who serve this country as heroic men and women deserve the utmost respect and love that can be given to them. May God bless you and give you strength to get through this horrible time in your life. HOOAH! CPL Bishop, HOOAH!
---
Carolyn Stewart
Bluefield, WV
March 22, 2010
To the Bishop family: Stacy, my deepest condolences are extended to your entire family. You will continue to be in my thoughts and prayers as you face the difficult days ahead. May God's love and your wonderful memories comfort you. Carolyn
---
Joe and Peggy Quesenberry
Christiansburg, VA
March 22, 2010
Paster Clyde and Mrs. Bishop, Words cannot express the depth of our sympathy for all the family and friends of your son, but hopefully it will help some measure to know that prayers on your behalf are being offered. Our son-in-law, Joey Kaylor, has spoken so highly of Steven, and what a great friend he was. God bless you and keep you.
---
Walt Keast
Roanoke, VA
March 22, 2010
I had the pleasure of meeting Steve during his flight from Roanoke to Atlanta on March 4th. He was on his way back to Iraq. We visited the entire time and he seemed like such a fine young man. He spoke warmly about his family, conditions in Iraq and his job. He kind of surprised me when he told me that he worked at a steel plant in Roanoke. Having grown up in Pittsburgh, they were so easily identified. I had no clue there was one off of Peters Creek Rd! At any rate, I felt compelled to tell you how extremely sorry I am for your loss. And, that I enjoyed getting to know Steve even if it was only for an hour and 20 minutes. Again, I am so sorry and I'll keep you all in my prayers... Walt Keast
---
Darrell and Jodie Slusher
Floyd, Va.
March 22, 2010
Dear Bishop family, Our hearts are heavy as we watch you grieve, we love Steven, having known him for so long. Just know that our prayers are with you daily. If we could make this easier for you we would, sadly grief is a journey that leaves a hole in our hearts-only to be filled when we meet our loved ones again. What the heart has once owned and had, it shall never lose. —Henry Ward Beecher We love you, Darrell and Jodie
---
Frits Brady
Floyd,Va.
March 22, 2010
The Bishop family are in my prayers.
---
Melissa
Moneta, VA
March 22, 2010
Clyde & Lucille, Angela, Stacy, & Daniel .. I wanted to say how truly sorry I am for your loss. Steven is a true hero because of giving himself to stand up for our freedoms. That is something your family should truly be proud of. May god bless and comfort you all through this difficult time. Melissa, Samantha, and Rachel
---
Rev. Bruce & Barbara Hagy
South Boston, Va
March 22, 2010
Brother & Sister Bishop we send our sympathy and to tell you we are praying for you all. May the Lord strengthen you all during this time.
---
Mark & Diana Martin
Henry County, Va
March 22, 2010
We are from the Henry County Longbeards Chapter of the National Wild Turkey Federation. We are friends of Mark Cox and are very sorry for your loss. We thank you for his service to our country and are very proud of his willingness to serve. We will send a donation to the Floyd County Church of God in his name. Please let Mark Cox know that we have sent our condolences and your whole family is in our thoughts and prayers.
---
The Julius Dickerson Family
Floyd, VA
March 22, 2010
To the Bishop Family, We were very saddened to hear of Steven's passing. He was always so friendly and pleasant to be around. All of you will be in our thoughts and prayers. We know God will give you peace and comfort as only He can. In Christian Love, Julius, Eunice, Mary, and Leah
---
Ann Hamblin Bolton
Greensboro, NC
March 23, 2010
I am soldier's angel, I will be praying for family during this time of your lost. May God comfort you with peace in knowing that he is in the presence of our Lord.
---
A.D. Harrison(Big-un)
Goodview, VA
March 23, 2010
I had the pleasure of working with Steve at the steel mill and he will be greatly missed.
---
barry m lumpkins
roanoke,va
March 24, 2010
To the Bishop Family, Let not your heart be troubled:Ye Beleive in God,Believe also in me.In my father's house there are many mansions:If It Were not so,I would have told you.I Go to prepare a place for you. John 14 1-2. RIP Steven. Lump
---
Terri Huggins
Winston Salem, NC
March 24, 2010
Steven gave the ultimate sacrafice for his Country. I'm sure as Steven protected us while here, he will be protecting you from above. My thoughts and prayers are with all of Steven's family and friends during this time of sorrow, please know he will not be forgotten. Terri Huggins Soldier's Angel
---
Joanne (Young) Burke
Martinsville, VA
March 24, 2010
Bro Clyde,Lucille & family Was so sorry to hear of your son's passing. I know that we have lost contact over the years (my parents were Rev and Mrs Lee Young), but just know that you all are in my thoughts and prayers.
---
Ramona Thach
Edmond, Oklahoma
March 27, 2010
Dear Bishop family, Mike and I want you to know how very privileged we were to spend a week with Steven in February when he flew to Oklahoma City to see our son, Spencer. What a wonderful young man he was....and such a good friend to Spencer. He always left us smiling and seemed so content with his life. His passing has left a void in Spencer's heart as I know it has yours. Our love and prayers are with you each day and as I told Stacy, we will meet you someday soon to tell you in person. May God's grace cover you in the days to come.
---
Bryan Lightfoot
St. Augustine Florida
September 05, 2017
One of the most important moments in my life was was knowing you and spending that last evening at FOB Marez with you. I owe you a King Size Twix and we will meet again and I will have it in my hand. Until then I will never forget you Brother! Bryan
---
Sign the Guest Book for CPL Steven Jesse Bishop