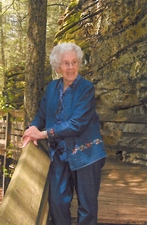 Minnie Young Sweeney
February 17, 1921 - January 30, 2015
Minnie Young Sweeney, 93, of Christiansburg, and formerly of Floyd, passed away on Friday, January 30, 2015. Born in February 1921 in Floyd County, Virginia, Minnie was the 6th child of the late Dallas and Mary Jones Young. She was predeceased by her husband, Thomas Strickler Sweeney, their daughter, Jeanette, and Minnie's six brothers and sisters; Herman Young, Ralph Young, Jeffrey Young, Annie Young Hungate, Pearl (Dollie) Young Lee and Lera Young Perdue. In 1940, she married Thomas Strickler (Strick) Sweeney. Their daughter, Jeanette, was born in 1941. Jeanette was a special needs child that Minnie lovingly cared for in their home for 27 years. For the majority of her life, Minnie and her husband, Strick, lived on a farm in the Alum Ridge section of Floyd County where they worked until 1987. After retiring from the farm, they lived in the Harvestwood area of Floyd County until her husband's death in December, 1996. Minnie and her sister, Dollie, then moved to Christiansburg, Virginia where they enjoyed many good years together. Minnie was known for her love of nature and the outdoors, her sense of humor, her skills as a seamstress and doll maker, her green thumb and her delicious country cooking. She will be greatly missed by many, including several nieces and nephews, friends, and loving caregivers. Funeral services will be conducted at 12 noon on Wednesday, February 4, 2015 at Gardner Funeral Home Chapel with Chaplain Todd Triplett officiating. Interment will follow at Jacksonville Cemetery. The family will receive friends at Gardner Funeral Home on Wednesday one hour before the time of the funeral service. In lieu of flowers, the family requests that memorial contributions be made to Good Samaritan Hospice in Christiansburg, Virginia. Condolences to the family may be made at www.gardnerfuneralhomefloyd.com. The family is being served by Gardner Funeral Home, Floyd.
---
Guest book
Mary Louise Sowers
Castle Rock CO
February 01, 2015
Dearest Michael and Celeste, Minnie brought so much joy and laughter to all who knew her. You both gave her comfort and love which was so beautiful. Those sisters were something else and loved all of them! Love you all,Mary Louise
---
Donna Rush
Christiansburg
February 01, 2015
Many fond memories of Minnie and Strick. Minnie smiled all the time. She will be missed.
---
Benita Lackey
Collinsville, VA
February 02, 2015
Sue and Bob, I am so sorry about the passing of your aunt. She lived a long life. Please know that you have my sincere sympathy. Benita Lackey
---
Shelby Lester Rutherford
Floyd, VA
February 02, 2015
She was such a sweet lady. I have fond memories of Mom and I visiting with her and Strick on many occasions on their farm on Alum Ridge. They enjoyed sharing many recipes and gardening tips. So sorry for your loss.
---
Glenn Miserentino
Fairfax, VA
February 03, 2015
I have fond memories visiting with Minnie and Strick. I am glad I got to visit with her and introduce her to my wife on a visit to Floyd years ago. Glenn Miserentino (son of Sue Sweeney Miserentino)
---
---
Paul & Lee Wilson
West Linn, Or.
February 09, 2015
I have so many wonderful memories of Aunt Minnie. She was so very kind to me. Paul took me to the farm on my honeymoon. Uncle Strick gave us a knife that they had gotten in their first year of marriage. We lived for Aunt Minnie's cooking. Paul helped with the hay and according to him just to eat one of Aunt Minnie's meals. When Paul played basketball on the men's league Aunt Minnie surprised him with a doll that look just like him in a basketball uniform. When my mother came to visit she and Aunt Minnie got pretty tipsy on Aunt Minnie's dandelion wine. Most of all I remember when I was sick she wrote the most endearing note to me that I still have. May God be with you Aunt Minnie. We Love you.
---
Regina Cox

February 16, 2015
saddened to hear Minnie has passed away, but no doubt that she is happy now. Was blessed to know her through working at Gentiva home health provided physical therapy for her (and her sister Dolly during Minnie's happier times). Also enjoyed getting to know Dolly as those two were truly precious gems. Sincerely, Regina Roberson Cox
---
Sign the Guest Book for Minnie Young Sweeney