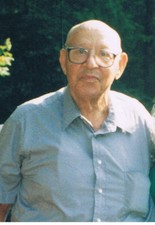 Sterling Ralph Stewart
December 21, 1917 - February 02, 2015
Sterling Ralph Stewart, 97, of Christiansburg, Virginia, USA, passed away on February2, 2015. Sterling was born in Floyd County, Virginia. He is preceded in death by his parents James W. Stewart Sr., and Mary Magdalene Terry Stewart, Also preceded in death is his wife Luisa Baviera Stewart, daughter Beverly Lee Stewart, and great-grandson Ariston Thomas Stewart. Also preceded in death are his sisters Dora Stewart Price, Virgie Stewart Love, one brother Elliott (Jake) Stewart. Sterling Ralph Stewart is survived by one brother James W. Stewart of Christiansburg, Virginia, three sons Ralph N. Stewart of Christiansburg, Virginia, John H. Stewart of Christiansburg, Virginia, and Irland (Toy) J. Stewart of King, North Carolina, two daughters Elvera L. Stewart Harris of Atlanta, Georgia, and Flora F. Stewart of Los Angeles, California. Sterling is also survived by 10 grandchildren, about 10 great-grandchildren, and a host for nephews, nieces, and friends. Sterling Ralph Stewart served over 20 years in the United States Army in the supply/transportation/support division during World War II and the Korean Conflict. Funeral Services will be Monday February 9, 2015 at 11:00 AM at Gardner Funeral Home, Floyd, VA with interment to follow in Stuart Cemetery with military graveside rights by VFW Post 7854 and American Legion post 127. Friends may call after 6PM Sunday at Gardner Funeral Home where the family will be from 6 until 8 PM. Online condolences may be made at www.gardnerfuneralhomefloyd.com. The family is being served by Gardner Funeral Home, Floyd (540) 745-2007.
---
Guest book
angie barnes
NC
February 09, 2015
Prayers for the family. Papa Sterling was an awesome man with many amazing stories. He was a blessing and we will cherish the memories we have. love and prayers during this time of loss.
---
Stephen Perkins
Christiansburg, Va
February 09, 2015
Toy,Flora and family, My deepest condolences in the loss of your Father. I had the privilege of knowing you father during our time as a member of the Disabled American Veterans. From time to time he would get a letter from the Veterans Administration and he would come to see me and have me explain the contents he didn't understand. I really enjoyed those times because after discussing his letter we would always sit and talk for at least an hour. Toy and Flora would always come up during our conversation. Our town and community have suffered a deep loss with his passing. If there is anything I can do please do not hesitate to contact me at (540)-529-6725. Stephen D. Perkins Past Department Commander DAV Department of Virginia CHS CLASS of 1976
---
Cornell Dow

February 09, 2015
May God be with you and your family.
---
Doris Correll
Snowville, VA
February 09, 2015
Sorry for your loss. Mark and I, both wanted you to know you are in our prayers.
---
Albert and Kay Johnson
Moneta, VA
February 10, 2015
Our sympathies to all of you. Mr. Stewart was my roommate at the VA Hospital for the past two months and I am so sorry to hear this.
---
Sign the Guest Book for Sterling Ralph Stewart