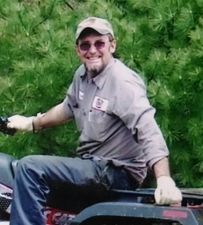 Joel Lee Sowers
April 01, 1958 - February 06, 2015
Joel Lee Sowers, 56, of Max Meadows, VA, passed away Friday February 6, 2015. He is survived by his wife Geanna Sowers; two daughters, Jessica Radford & Tasha Stout; eight grandchildren Dylan, Lacey, Brendan, Aleaha, Anthony, Melanie, Angel & Ryan; one sister, Carmen Manning; two brothers, Brenn & Alean Sowers & Bruce & Wanda Sowers; many nieces & nephews. Funeral services will be Tuesday February 10, 2015 at 2:00 PM at Gardner Funeral Home with Pastor Kelly Marshall officiating. Interment will follow in Restvale Cemetery. Family will receive friends one hour before service time. There will be no other visitation at the funeral home. Online condolences may be made at www.gardnerfuneralhomefloyd.com. The family is being served by Gardner Funeral Home, Floyd, VA (540)745-2007
---
Guest book
Teresa Tunstall
Copper Hill, VA
February 08, 2015
Geanna, I am so sorry for the loss you and Gabrielle are going threw. Please know that Little River Baptist Church has you In there prayers. You church family here knows how much you are suffering. I hope you find the strength you need in the coming days and weeks. God never said things here on earth would be easy. He only said he would not leave you for forsake you. So he is with you. I hope you can feel his love. Your Friend, Teresa
---
John and Zona Jones
Wytheville,Va.
February 09, 2015
Praying for you and yours during the days ahead. I know that the Lord will help you during the days and months ahead.Please let John and I know if you need anything.You and your family have been a blessing to our church.Love and prayers
---
Friend from past...

February 09, 2015
Tasha & Jessie, I am very sorry for your loss. Praying that God will give you strength and comfort as you go through this difficult time. Joel had his struggles, but he did love you girls, and those grandbabies!!
---
Jessica Radford

February 09, 2015
Geanna & Gabrielle I know yall are suffering & that there is nothing we can do to help w/ that. But we love yall & are here for yall in anything you need. This is not easy for any of us, but know that we are praying for yall as well & know how much he loved yall & how yall loved him back. Thank you for taking such good care of him & know that we are here for you both
---
Angee Shreffler
Roanoke, VA
February 09, 2015
Geanna, You and Gabrielle are in my prayers during this most difficult time. Please realize there are many family members and friends that only hope to help you through this. Please let me know if I can help in any way. Sincerely, Angee
---
Debbie Stout
Floyd, Va
February 09, 2015
I won't be able to be with you, but Love, prayers and blessing go out to you and your family, Love Mom
---
Mary Conner Elkins
United States
February 09, 2015
What a loss of a dear person. So sorry to my cousins in virginia. Joe was a real person. He was never phony. Just meeting him would bring joy to any one. He had a special way of making you feel accepted and loved. I can't say enough about what an inspiration he made in my own life. He was my friend and cousin. Most of all a dear person that cared beyond what most people are capable of. Never imagined loosing him so soon. Definitely he is with his Lord and savior Jesus Christ. He was proud to say that he and Jesus walked many miles together. Never will I forget him and his kindness to me.
---
glenn conner
forest hill, md 21050
February 10, 2015
sorry to hear this I have not seen Joe for a long time but he is still my cousin and will be missed. i am one of the Maryland cousins, Dinky,s brother Glenn and Dottie Conner
---
Marlene & Chris Garber
Copper Hill
February 10, 2015
Jessie and Tasha, We just heard of your Dad's passing. Please know we are lifting you both up in our prayers today, and in the days to come. Chris & Marlene Garber
---
Larry (Dink) Conner (cousin)
Baltimore MD.
February 10, 2015
So sorry to hear about Joe . The first thing I thought of was how he could make me laugh and his love for nice cars. Thoughts and prayers to his family . Carmen , Bruce , and Bren ,some of the best times of my life were spent visiting all of you . Dink
---
Allan and Marsha Vass
Stuart, VA
February 10, 2015
Your family is in our thoughts and prayers. Please free to contact us if we can help in any way. We love you. Allan, Marsha, and Abigail Vass
---
Richard Burnette
Fancy gap va
April 23, 2015
Im so sorry for your loss.If there is anything i can do let me know
---
Sign the Guest Book for Joel Lee Sowers