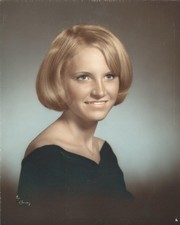 Patsy Wimmer Link
September 13, 1953 - April 27, 2015
Patsy Wimmer Link 61 of Check, VA. passed away April 27, 2015 To Be With Her Lord and Savior. She is preceded in Death by her Parents Sam and Georgie Foster Wimmer. She is Survived by Her Husband Allen Link, Stepson Glen McGuire and Pam , Step-Granddaughter Caitlan McGuire, Brothers Tommy Wimmer and Connie , Don Wimmer, Sister Carol Wimmer and Harold, Aunt Hilda Argabright, Nieces Missy and Brad, Holly and Bobby, Nephews Donnie and Sarah, Joe and Laura, many cousins, family members, and several sisters-in-law and brothers-in-law. Funeral services will be Thursday April 30, 2015 at 11:00AM at Gardner Funeral Home Chapel with Rev. Leon Alley officiating. Interment will follow in Piedmont Cemetery. Friends may call after 11:00 AM on Wednesday April 29, 2015 at Gardner Funeral Home where the family will be from 6 to 8 PM,. On line Condolences may be made at www.Gardnerfuneralhomefloyd.com the family is being served by Gardner Funeral Home.
---
Guest book
Gail Bandy
gardner funeral home
April 28, 2015
Patsy was such a good person. God bless her family!
---
Debbie Main
Christiansburg va
April 28, 2015
Allen we are so sorry for your lost. Tommy, Donald and Carol our hearts go out to you and all your family. Pasty is in better place than we are. She will be missed very much. God Bless you all. Martha and Debbie Main
---
Todd Dearing
Floyd, V.A.
April 28, 2015
My dear friend, Allen Link, The deepest condolences to you and your family during the time of need. Our thoughts and prayers are with you. If you need a story anything please do not hesitate to call
---
vanessa jackson
Christiansburg va
April 29, 2015
The God of all comfort and the Father of mercies is comforting you during this time of loss. .. Vanessa Jackson
---
Afton Akers McPeak
SML
April 29, 2015
I wanted to express my deep understanding of the sorrow your family is now experiencing. As part of the medical team at Lewis Gale, Salem; I saw first hand how strong your loved one was. Despite our tremendous efforts at length; we could not bring your loved one back to this world. As her husband, you were able to see our endless attempts first hand . There are situations however that are beyond our control. Despite cutting edge technology, the extensive knowledge bases our team possessed, and all the hands on tasks we performed as sweat poured down our faces; her destiny could not be changed. From everyone at Lewis Gale, Salem; and the absolute bottom of my heart I am truly sorry for your loss.
---
Lois Cunningham

April 29, 2015
It is with sad heart that I say goodbye to my good neighbor Patsy. I will sure miss her waving to me when she leaves for work. My sincere condolences go to her family and especially to her husband.
---
Ahmed
Blacksburg
April 29, 2015
Patsy trained me when I first started working at Federal Mogul. She was a very sweet, kind-hearted and honest woman. She would always light up a room as soon as she walked in. May she rest in peace. Best condolences - Ahmed
---
Keith and Connie Walker
Huffville,Va.
April 29, 2015
An excellent wife, who can find? For her worth is far above jewels. The heart of her husband trusts in her, And he will have no lack of gain. She does him good and not evil All the days of her life. Our thoughts and prayers are with you. Keith and Connie
---
Ms. Charlotte P. Austin
Pilot Va
April 29, 2015
Sir Allen, I am so sorry to hear about your wife's death. I know she must have been a wonderful person, because your life just shined after you married. Eddie was happy for you when you married. I remember him telling me about it. Jehovah God promised to take away the sting of death one day. Also he promised us that we all have the hope of seeing our died loved one's again. That was the only thing that has helped me with Eddie's death, even though my life has never been as rich since he died. Again, I am so sorry. Sincerely, Ms. Charlotte P. Austin
---
Sue Foster
Christiansburg, VA
April 30, 2015
Allen, my thoughts and prayers are with you today. Was so sorry to hear of Patsy's death. Shelley and I were looking forward to having our annual lunch with her when Shelley comes to visit this summer. Also, to Carol, Tommy and Donnie.. know all your heart's are broken. Patsy was such a sweet gal. Her Uncle Jay thought so too. Love to all. Sue
---
Michael Scaggs
Riner va
April 30, 2015
Patsy was a such a wonderful and caring person. She was always nice to me and I will sadly miss her.
---
Mark Gearheart
Pilot va 24138
April 30, 2015
So sorry for your lost Allen wish I could been there but I am in rehab for now saying a prayer for you
---
Brenda Moran
DALEVILLE Va.
April 30, 2015
I'm so,sorry to hear about patsy I worked with her at ITT. She was a very hard worker and very nice friend. She will be missed .im praying God,will comfort the family during this difficult time
---
Kristal Adkins
Pembroke,Va
April 30, 2015
Thank you for being the first person at work to show me kindness. I'll never forget you. You will be greatly missed!
---
Freda Austin

April 30, 2015
I am sorry for the loss of a good friend. She was a genuine person and wonderful to work with.
---
Donna Wilson
pembroke, va
May 01, 2015
It's a sad day for all of us that we have lost such a wonderful friend. Pasty, I will always miss you and love you.
---
Brenda and Jeff Moran

May 02, 2015
---
TRISH PAYNE
Vinton, VA
May 06, 2015
I am so sorry to hear of Patsy's passing..I had not seen her in years but have such fond memories of her in our much younger years. Our trips every year to Florida and Myrtle Beach.My sympathy goes out to her family..Prayers to you all during this sad time:(
---
Sign the Guest Book for Patsy Wimmer Link