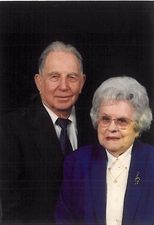 Alvis Edwin Reed
July 27, 1920 - May 16, 2015
Alvis Edwin Reed, 94, of Floyd, went to his heavenly home on Saturday, May 16, 2015. Alvis was a longtime and faithful member of Laurel Branch Church of the Brethren where he served as a deacon. He worked as a contractor for many years building houses, churches, and schools. He was preceded in death by his parents, Homer and Lillie Reed his son-in-law, Frank T. Davis., his brother, Percy Reed and wife, Laureen, and two brothers-in-law, Issac Harman and Myron Hylton. Alvis is survived by his loving wife of 72 years, Reva D. Reed; son, Roger Reed and fiancée, Patsy Frank of Florida; daughter, Patricia Davis of Floyd. He is survived by grandchildren, Neil and Kathy Reed, Eric and Michelle Reed, Lisa Altizer Smith, Michael and Casondra Altizer, Rachel and Peter Harmatuk; great-grandchildren, Hannah and Sarah Groat, Caden Reed, Jacob Smith, Brandon Smith, Suzanne Smith, P.J. Harmatuk, Kelly Harmatuk, Brielle Altizer and Abigail Altizer.; two sisters, Ruby Harman and Hazel Hylton. Funeral services will be conducted at 11 a.m. on Tuesday, May 19, 2015 at Laurel Branch Church of the Brethren with Pastor Angela Carr officiating. Interment will follow at Beaver Creek Church of the Brethren Cemetery. Friends may call at Gardner Funeral Home on Monday, May 18, 2015 after 6 p.m. where the family will be from 6 to 8 p.m. Condolences to the family may be made at www.gardnerfuneralhomefloyd.com. The family is being served by Gardner Funeral Home, Floyd.
---
Guest book
lisa keith
floyd va
May 18, 2015
---
Peter Harmatuk
Oakton, VA
May 18, 2015
Rachel's Grandpa (that's how I knew him) was a kind and generous man who embodied many qualities that I am trying to display in the relationships that I have with my own children and grandkids. I know my grandson "PJ" loved his great-grandfather as he always talked to me about the things he did with him when he (PJ) came home from visiting him. When a man finally goes home, he has only one thing of value to take with him…..it's the love of his family…..Mr. Reed went home a Very Rich Man…..
---
Sue Anne Boothe
Floyd, VA
May 18, 2015
So sorry about about Alvis. Such a sweet man. Thinking about you all.
---
Linda Lawson
Christiansburg, VA
May 20, 2015
Mrs. Reed: So Sorry to hear of the passing of Alvis. My ex-husband worked for him for many years and during that time we both got to know the two of you. Peace and grace be with you. Love and prayers to the family. : )
---
Sign the Guest Book for Alvis Edwin Reed