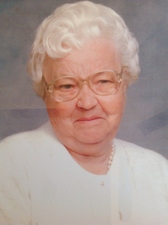 Virginia Ellen "June" Vest Peters
October 06, 1925 - June 02, 2015
Virginia Ellen "June" Vest Peters of Salem died Tuesday, June 2. She was the daughter of the late James B. and Louella Vest and was preceded in death by her husband Nelson Peters and special nieces Donna Sweeney and Denise Vest. "Aunt June" was a native of the Check area of Floyd County and lived her adult life in the Roanoke Valley and Bedford County. She loved her family, friends and Jeff Gordon. She learned to drive in her fifties and frequently drove the Blue Ridge Parkway from her home in Thaxton with her mother to see her sister Edith Vest Sweeney and other family and friends in Floyd. She never missed a family reunion at Stonewall Church or apple butter making at the home of her nephew Marvin West. She owned the "brownie bucket" and ensured it appeared full at family gatherings. Trips to the doctor were followed by a required stop at the Roanoke Wiener Stand and she paid. She also paid too much for little tomatoes and didn't care. In her later years she loved milkshakes, "pizza parties with the girls" and chocolate. With no children of her own one of her most-prized possessions was her "aunt's ring." If you made her happy she would giggle; if you made her really happy she would cry. One of ten children and the middle sister of three, she is survived by two brothers, William "Bill" Vest of Radford and Irvin Vest of Roanoke; a sister-in-law Corrine Vest; special nieces and nephews Linda Fielder, Dwayne Vest, Doloris Vest, Martha Pinard and Danny Vest; many other family and friends. Funeral services will be Saturday, June 6, at 11 a.m. at Gardner Funeral Home in Floyd with the Rev. Darren Landon presiding. Interment will follow at Stonewall Cemetery. The family will receive friends one hour prior to the service. Condolences to the family may be made at www.gardnerfuneralhomefloyd.com. The family is being served by Gardner Funeral Home, Floyd.
---
Guest book
marla sweeney melvin
pulaski, va
June 05, 2015
I am sad for your family having to say goodbye to your Aunt June. I laughed so much at the stories my cousin Donna would tell me about her Aunt June.I know how much Donna loved her.
---
Sign the Guest Book for Virginia Ellen "June" Vest Peters