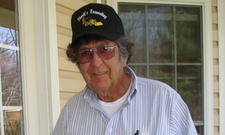 McCrey Shortt
April 03, 1931 - June 15, 2015
McCrey Shortt, 84, of Floyd County, passed away Monday, June 15, 2015. He was a lifelong resident of Floyd County. McCrey served in the United States Army, had a successful excavating business, and farmed beef cattle. McCrey was the son of the late Forest and Lala Shortt and brother of the late J.A. Shortt. He is survived by his wife of 60 years, Joyce B. Shortt; brother, Marshall Shortt and wife, Joyce, of Newport News, VA, his son, Michael Shortt and wife, Janice, of Floyd, his daughter, Cathy Bratton and husband, Kenneth, of Salem, and his daughter Vicky Wade and husband, Dale, of Floyd. His grandchildren include Ashlee Weeks and husband, John, Ryan Shortt and wife, Hope, Heather Bratton, Robin Bratton, Shannon Bratton, Kelly Blackwell and husband, Matthew, Kayla Cox and husband, Jared, and Kendell Wade. He is also survived by 8 great-grandchildren; Peyton and Grayson Weeks, Braylee and Austin Shortt, Mack and Krey Blackwell, and Mattie and Kolby Cox. Visitation will be at Gardner Funeral Home on Wednesday from 2-4pm and 6-8pm. The funeral will be at 11am on Thursday at Gardner Funeral Home with Pastor Dan Agee, Pastor Warren Bumgarner and Pastor Joe Womack. Interment will follow in Countyline Church Cemetery, with Graveside Military Rites by VFW Post#7854 and American Legion Post # 127. In lieu of flowers, donations can be made to Medical Charities of Floyd County, in memory of McCrey Shortt. Online condolences may be made at www.gardnerfuneralhomefloyd.com. The family is being served by Gardner Funeral Home, Floyd.
---
Guest book
NANCY & DAVID HENLEY
ROANOKE, VA
June 16, 2015
So sorry to lose such a special person and know that we love all of you.
---
Buddy Moricle
Woolwine Va.
June 16, 2015
Knew him all my life, a mighty good fellow. My dad and him are having a good reunion right now.
---
Geneva DeHart Housman
westmoreland,tn
June 17, 2015
Joyce and family sorry to hear of McCrey's passing. We were neighbors for a long time.
---
Ben Harmon
Olive Hill, KY
June 17, 2015
Joyce and Family, I offer my sincerest condolences in McCrey's passing. He was Mom's (Dorothy Shortt Harmon) first cousin and always a dear friend to her, Dad, Nancy, Gordon, and me. I didn't see him very often after I moved to Kentucky several years ago, but it was a delight the few times that I did. He was always the same McCrey! Prayers, and May GOD Bless
---
Marna Akers
Shawsville, Va.
June 17, 2015
Mike & family. I am so sorry to hear about McCrey. He will be missed by all that knew him. He came to the quarry last week and it was so good to see him. I am glad that he did that. That's how I will remember him. I would come to the funeral home but I have pneumonia and am out of work for the rest of the week. I am sending my deepest sympathy to all of you.
---
Bentley Ferris
Floyd Va
June 18, 2015
My condolences to you all! McCrey was one of a kind & will be greatly missed by all that knew him! Always had the time to stop and speak no matter how busy he was!
---
Rodney and Debbie Collins
Floyd, VA
June 18, 2015
Dear Family, Our sincere sympathy in the loss of your dear loved one. May God wrap his loving arms around each of you during this difficult time and provide you comfort and peace. Our thoughts and prayers are with you.
---
Deborah Carter
Floyd
June 18, 2015
I am so sorry for the loss of your husband, father and grandfather. In the coming days I will keep you and your families in my prayers for strength and comfort.
---
Mark and Sue Custer
Vinton VA
June 18, 2015
With much respect, sorrow and deepest sympathies to all the family. You are in our thoughts and prayers. Crey will be missed by everyone for all his kindness. Mark and Sue Custer
---
KATIE LESTER/CAROLYN STUMP
CHRISTIANSBURG VA
June 20, 2015
JOYCE SO SORRY TO HEAR OF YOUR HUSBANDS PASSING. YOU ARE IN OUR THOUGHTS AND PRAYERS. KATIE LESTER CAROLYN STUMP CHRISTIANSBURG VA.
---
Sign the Guest Book for McCrey Shortt