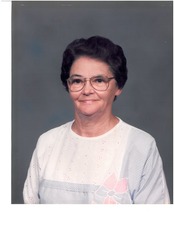 Reva Rorrer Belcher
February 10, 1920 - July 08, 2015
Reva R. Belcher, 95, of Floyd, passed away on Wednesday, July 8, 2015. She was born on February 10, 1920. Her husband, Aubrey Belcher, son, Larry Dean Belcher and her granddaughter, Kimberly Belcher preceded her in death. Survivors include her sons, Norris Belcher (Carla) of Linden TN, Butch Belcher (Donna Dulaney) of Floyd; brothers, Claude Rorrer (Christine) of Brooksville FL, Sebert Rorrer (Jean) of Radford; her sister, Sylvia Hancock of Floyd. She is also survived by four grandchildren, nine great-grandchildren, several nieces and nephews, and by dozens of children she kept over a 30 year span who will always remember her as Granny. Funeral services will be conducted at 1 p.m. on Friday July 10, 2015 at Gardner Funeral Home Chapel with the Reverend Jeff Dalton officiating. Interment will follow at Topeco Cemetery. Friends may call after 6 p.m. on Thursday at Gardner Funeral Home where the family will be from 6-8 p.m. Condolences to the family may be made at www.gardnerfuneralhomefloyd.com. The family is being served by Gardner Funeral Home, Floyd.
---
Guest book
Sandra and Delmar Dollat
Blountville, Tn
July 09, 2015
---
Pete and Lorna Russell
Linden, TN 37096
July 09, 2015
Our sympathy to all the family of Mrs. Belcher. You will be in our thoughts and prayers during this difficult time.
---
John & Carol Boyd
Floyd, VA
July 09, 2015
Our deepest sympathy to each of you. May our Lord Jesus Christ bring peace and love to your hearts. Reva lived a good life and you can cherish the fond memories that each of your shared with her. Draw near to God during this time of bereavement because He always desires to be with you.
---
Dale
Stoneville NC
July 09, 2015
Our family loved Aunt Reva. She was a special lady. Please know we are praying for all of you. We will see you tomorrow. Norma, Dale and Cindy daughters of Lindsey and Claudine Belcher Evans
---
Beatrice Belcher
Floyd Va 24091
July 11, 2015
I am so sorry and am praying for the family.
---
Sign the Guest Book for Reva Rorrer Belcher