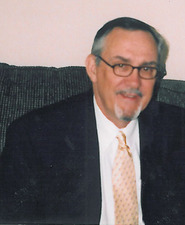 Jerry Bryant Varner
March 20, 1937 - July 04, 2015
Jerry Bryant Varner, 78, of Greensboro, passed away on Saturday July 4, 2015. He served in the United States Air Force for four years, then he was employed by Hasco and C.C. Dickson Company. He was a very loyal and dedicated member of the Loyal Order of the Moose for 47 years. He served as Past Governor of New Garden Moose Lodge # 1884, Past State President of the North Carolina Moose Association, Past Deputy Supreme Governor of the Loyal Order of the Moose, and was an International Champion in both Lodge and Moose Legion ritual competition. He received the Pilgrim Degree in 1995 which is the highest Degree of the Loyal Order of the Moose. He visited Mooseheart and Moosehaven several times, and was a very loyal friend to not only to his lodge members but to the lodge members of the International Order of the Moose. He was preceded in death by his wife, Johnny O'Neil Varner, his parents, Ernest and Hallie Varner, his daughter, Cynthia Varner Hollomon, his son, William B. Varner, and a brother, Ralph Nuckles. He was a loving father and grandfather to his children, step-children, and grandchildren. He is survived by his daughter, Leslie Varner Acker; his step-children, Lonnie, Jack, and Scott Whitley; his grandchildren, Hallie Clark, Donnie Varner, Emma and Joshua Whitley. A memorial service will be conducted at 4 p.m. on Sunday, July 12, 2015 at the Lutheran Church Of Our Father, 3304 Groomtown Road, in Greensboro. The family will receive friends at the church after the memorial service. In lieu of flowers, memorial contributions may be made to Moose Charities, Moose International, 155 South International Drive, Mooseheart, IL 60539-1181. Condolences to the family may be made at www.gardnerfuneralhomefloyd.com. The family is being served by Gardner Funeral Home, Floyd, VA, 540-745-2007.
---
Guest book
Carolyn Russ
Floyd, VA
July 12, 2015
Dear Leslie, Dottie and other loved ones, Your family was always very special to us as we grew to know and love you as neighbors. Jerry recently came to Ted's Service and was always so interested in our family anytime we would see him. May God rest his soul and bring comfort to those who grieve him. Love and peace, Carolyn Russ and family
---
Carl & Libby Schmidt
Milford, DE
July 14, 2015
We are so sorry to hear of your loss. You are in our thoughts and prayers at this most difficult time. A burden to one is borne lightly by many! God Bless! Libby & Carl Schmidt (Your Moose family)
---
Chris Peru
Van Buren, r
August 13, 2015
He will be missed by all who knew him. He was an excellent to all Moose members. Our prayer go out to his family during this most difficult time. May he rest in peace.
---
Sign the Guest Book for Jerry Bryant Varner