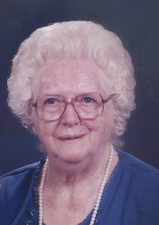 Juanita Cannaday Thomas
July 15, 1918 - October 03, 2015
Juanita Cannaday Thomas, 97, of Floyd, VA passed away Saturday, October 03, 2015, at Skyline Nursing and Rehab.Center. Born July 15, 1918 in Floyd County, she was the daughter of the late Urbane Cannaday and Ella Williams Cannaday. She was preceded in death by her loving husband of 63 years, Silas H. Thomas, son S. Wayne Thomas, and three brothers, Harley Cannaday, George L. Cannaday, and Ralph Cannaday. Surviving her are a son, S. Glenn Thomas and wife Leta Enoch Thomas, both of Charlottesville, VA, a daughter-in-law Judy Lee Thomas of Copper Hill, VA, a brother Thornton L. Cannaday of Bedford, VA, a sister Ilene C. Compton (spouse Carson) of Pulaski, VA, four grandchildren, Stephen G. Thomas (spouse Joyce) of Houston, TX, Ella T. Heitzler, PhD.,(spouse Paul) of Alexandria, VA, Robin T. Chewning (spouse Tom) of Roanoke, VA, and Christy T. Vest (spouse Kevin) of Check, VA, three great grandchildren, and 2 great great grandchildren. She was a loving wife and mother who was an active member of Red Oak Grove Church of the Brethren and who worked outside the home in the garment industry. She will be sorely missed by family and friends. The immediate family will welcome guests at a visitation Wednesday, October 7, 2015 at Gardner Funeral Home in Floyd from 1–2 PM with the funeral service at 2 PM officiated by Rev. Hebron Quesenberry. Burial will immediately follow at Jacksonville Cemetery, Floyd, VA. Online Condolences may be made at www.gardnerfuneralhomefloyd.com. The family is being served by Gardner Funeral Home, Floyd, VA.
---
Guest book
Ben Harmon
Olive Hill, KY 41164
October 05, 2015
Glenn and Family, My sincere condolences for the passing of your mother. I remember your family so well. Prayers of comfort
---
Patsy Harman East
Floyd, Va
October 06, 2015
May God be with you and comfort you at this very difficult time. Praying for all of you. Glen and Leta, I am so sorry for your loss...
---
Joe Sowers
Floyd, VA
October 07, 2015
Thinking of you at this time.
---
Sign the Guest Book for Juanita Cannaday Thomas