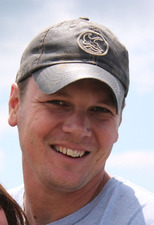 Adam Lee Schulze
June 11, 1977 - October 23, 2015
Devoted husband and father Adam Schulze, of Riner, passed away on Friday, October 23rd at the young age of 38. He was surrounded by love as he passed quietly after a sudden turn of events. Adam was big on family and loved coming home to his kids and wife each day. He enjoyed and cherished every moment because he knew how precious life is, and how it could change in an instant. His work had that family atmosphere as well. Adam really enjoyed the people he worked for and with at Southern Air. He liked going to supply houses and chatting with people there, and he also enjoyed talking to his customers. Adam was a Sergeant First Class in the Army National Guard. He joined because he wanted to serve his country and served three tours overseas. Adam was proud to serve with all of his fellow soldiers, and was only two years away from retirement. Adam is survived by his wife, Sabrina; five beautiful children, Shauna, Garrett, Kylie, Wyatt, and Arick; parents, Peter and Sandy; brother, David (Kayla); nephews, Liam and Knox; soon-to-be niece; Oma (Grandmother), Helga Lopes; and many aunts, uncles, cousins, and in-laws. Funeral services will be Saturday October 31 at 11:00 AM at Grace Baptist Church with Rev. Steve Lackey officiating. Interment will follow in Jacksonville Cemetery. Family will receive friends Friday October 30 at Grace Baptist Church from 2 to 4 and 6 to 8 PM. A special thanks to the VCU Neuro Critical Care Unit for doing everything they could for Adam and family. The family would also like to thank the military, former military, and community for the outpouring of support during this difficult time. Online condolences may be made at www.gardnerfuneralhomefloyd.com. The family is being served by Gardner Funeral Home, Floyd
---
Guest book
Robert Hawkins
Christiansburg, VA
October 28, 2015
Adam was an exceptional man, a friend, and a NCO that everyone looked up to. He demonstrated a multitude of values and placed the lives of so many before his own. He went out of his way for me personally, and I respect him very highly. He will be missed as there are far too few men like him in this world. Rest well my friend.
---
Norman & Shirley Stevens
Riner, Va.
October 28, 2015
We are so sorry to hear about this. Adam was a hard worker and loved his family very much. He was always doing something for someone, all you had to do was ask for his help and he was there to give it. Prayers for Sabrina, the children and all of the family. May God Bless all of you.
---
Charles Layman
Stuart's Draft, Va
October 28, 2015
I remember Adam always with a smile on his face. No matter the situations we were confronted with in Afghanistan, he always smiled. Maybe God give comfort, healing, and love to his family in there time of need.
---
Kevin Clifford
Trenton NC
October 28, 2015
An Infantry brother who was one of a kind. May you find your place in God's Army of Angels. Adam was a man who touched many lives on Earth. Was always there to lend a hand to his fellow man. Adam will live on forever in our memories and stories. May God watch over his family and friends in this time of sorrow giving them strength. Eternal rest grant unto Adam, O Lord, and let perpetual light shine upon him. May the soul of the Adam find eternal rest in peace.
---
Finkle
Memphis
October 28, 2015
It was an honor to have known and served with SFC Schulze. He was a good, honorable man who always took care of his men. God bless his family and friends. Prayers.
---
Cynthia Saferight
Christiansburg, VA
October 28, 2015
Adam was a wonderful example of a Christian, husband, father, son, brother, and friend. He was very special to everyone that met him. I remember one day I texted Sabrina and said to her, "He just keeps getting better looking every day!" she said, "I know, I am so lucky!" and yes Sabrina, you and the children were very lucky! Love to you, the children and family.
---
David Smythers
Lawton, Oklahoma
October 28, 2015
My family and I wish to express our condolences to the family of SFC Adam Schulze. He was the first NCO I served under when I joined the Army. I was assigned to C Company in Christiansburg, Va and my first drill with was in Fort Pickett. I had not been issued any gear at that point and it was cold and wet. Sgt Schulze lent me gear to stay warm and dry. We deployed twice together to Iraq. Although I was not under him, he still provided great support as he did to all soldiers regardless of their rank or position. He also assisted me in landing a job with Montgomery County Public Schools. He was one of the best sergeants I had the honor and privilege of serving with during my military career. You will be missed Sgt.
---
Matt Spiker
Maurertown, VA
October 28, 2015
I knew Adam in passing on my first deployment, but gained a great level of respect for him. I was a 22 year old newly-promoted sergeant when I found out I was going back to Iraq. I was overwhelmed and felt that I was not up to the task. I can't convey the peace that I felt when I found out that I was going to be working directly under Adam. He had that effect on people. He exhibited that rare perfect mixture of compassion and competence that is the hallmark of a true leader. I consider myself fortunate to have worked closely with him over the span of that 2010 Iraq deployment. We returned home and went our separate ways. For those who have done multiple deployments, this separation is commonplace. But my time with Adam was truly life-changing. Adam showed me not only true leadership, but also how a man should act. A man is humble, and lets his actions speak louder than his words. A man loves and cherishes his family, and does everything in his power to provide for their welfare. A man leads not by the power inherent to his position, but rather by his own personality and abilities. Adam personified all of these attributes. In the years since that deployment I have found myself in various leadership positions. I have always strived to model myself after Adam. I have come up short more often than not, but the example that he set is a daily reminder of the man that I want to be. More importantly, the love and respect that Adam demonstrated for Sabrina and his children set an example for me in my marriage and my relationship with my daughter. I have been fortunate to meet many outstanding individuals over the years. But, out of all of these great people, Adam was the one that made the greatest impact on me and was the one that I most wanted to emulate. I can't put to words the effect that he had on me. He was the most decent man that I have ever had the privilege of knowing. Adam was a mentor, leader, role-model, and friend. He showed me how to be a good leader, soldier, husband, and father. SFC Schulze, I know that you would be embarrassed to read these words, but I want everyone to know the impact that you had on me. I wish that I had told you this in person.
---
Carla Lopes
Colorado Springs, Colorado
October 28, 2015
He will be missed!!I am so happy that he knew the LORD!!I will be Praying for all of you.
---
Cindy
Christiansburg
October 29, 2015
Sabrina I am do heartbroken for you and your family I'm sure I have seen Adam at some point over my 6 1/2 years in the guard I was actually at ft drum this past June when he was there. If there is anything I can do please let me know I know your aunt Pam. God bless you in this most difficult time
---
Erma Thomas

October 29, 2015
My prayers are with the family. Peace be among you all.
---
Mark Farley
Richland, MO
October 29, 2015
We are saddened at the passing of Adam and pray that God provides you all comfort and strength. We honor and celebrate Adam's and the entire family's sacrifice in service to our nation. May he rejoice in the house of the Lord forever.
---
Joe & Cassandra Lake
Staunton, VA
October 29, 2015
Sabrina, Joe & I can't imagine what you must be feeling and going through right now, but we want you to know that we are just a phone call away if there is anything we can do to help, anytime. Our heartfelt condolences to you, your children and your family. "Tears are the silent language of grief" -Voltaire
---
Kenneth Wylie
Lewisburg, WV
October 29, 2015
---
SFC Scott Powers
Port Republic, VA
October 29, 2015
Prayers from the Powers family. May the Lord be with you. We were deployed together and often talked about our families. One of the strongest NCO's that I have ever met! We will miss you brother but will never forget. I bare a heavy heart.
---
David Perkins
asheboro,nc
October 29, 2015
You where the best squad leader of a group of men thrown together at the last minute. You lead us well through many trials and many successful missions without a single failed mission or loss of life or cargo. You will be greatly missed my friend. You did your family, your men and your country proud. You will be missed.
---
Sharon Walker
Dublin
October 30, 2015
I am so sorry for your loss. Adam was our service person at LMLC. The first time I met Adam, I knew he was a Christian, he loved the Lord and loved his family. We talked alot about you and his children, and his faith. Adam was a special man and he will be missed. My prayers are with your family. Sharon Walker
---
Steve and Anthea Love
Zimbabwe Africa
October 30, 2015
It was a joy and a blessing having the opportunity to work with Adam at Southern Air. He was a good man and will be missed by many. Our love and prayers are with his family.
---
Daniel Murray
Fort Leonard Wood, MO
October 30, 2015
To Pete and the entire Schulze Family--Our deepest condolences. Our hearts ache for you and we cry for your loss. But we praise the Lord for Adam's salvation and rejoice knowing that he is in the loving arms of our Savior Jesus Christ. We pray that the Lord will extend to you all the peace that only He can give in this time of great sorrow. ROM 10:10-13 Dan and Colleen Murray
---
brian jones
ivnahoe va.
October 30, 2015
David, I am sorry to hear of Adam's passing. Adam was always a very respectful and solid guy. Please give my condolences to your family. Brian
---
Dawn Darling
Prattville, NY
October 31, 2015
I am so sorry for your loss! But always know he is with you, watching over you and in your hearts and memories for ever! Love you all!
---
Thomas Sheffey-Maint sup
Longwood Wytheville
October 31, 2015
When Adam came to our plant it was always a pleasure to see him. We knew the work he did would be correct and always did his best to please us. He talked of his family and was always concerned for his wife and helping her with the children.Especially concerned with their daughter with diabetes and her care. He was an exceptional young man. I will ask prayer for your family during church this Sunday. As a person who has lost 3 of my brother in laws in their twentys (with young children) My heart breaks for you. Thomas
---
Tiffany Anderson
Overland Park, Kansas
November 01, 2015
Adams's beautiful spirit lives on in the amazing family members who are a reminder of the blessing he was. Lisa, Sabrina, and all of the kids - I am praying for you daily. I still have a picture from a central office picnic when the family was just starting off. His humble and kind spirit just made those around him want to be of service to others in any way possible as he prepared at that time to return to active duty. Just an incredible man and an example to us all of what God's blessing looks like in people. Stay strong and just know you are uplifted in prayer by hundreds of people near and far way.
---
Jane Shaw

November 02, 2015
Rest in Peace, Adam. Your spirit lives on through the beautiful way you showed us how to make a life well lived.
---
James Anderson
Galax, Va
November 02, 2015
Adam was a great guy, always had a second to chat. I am so sorry for your loss.
---
Lorraine Smith, wife of Tom Smith
Hillsville, VA
November 09, 2015
Please accept my deepest condolences. I am praying for strength and comfort for you at this time.
---
Kimberly (seay) Richesin
Spotsylvania, Va.
May 26, 2018
I know this is late. I went to Spotsylvania High school with him. I had always what had happened too him. And Sadly I just found his Obituary. I'M AM VERY SORRY FOR YOUR LOSS.
---
Sign the Guest Book for Adam Lee Schulze