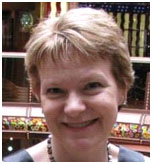 Stella Lea Gann
November 21, 1961 - December 09, 2015
Floyd, Va.-Stella Lea Gann, 54, went home to be with our Lord and Savior on Wednesday December 9th, 2015. She was preceded in death by her parents James Edward Gann, Sr, and Grace Elizabeth Byrd Gann; and one brother James Gann, Jr. She is survived by her loving partner Meredith (Will) Williams, brothers and sister-in-laws John (Cathi) Gann of Newton, NC, Jack (Pam) Gann of Moorhead, MN; sister-in-law Alecia Gann, Newport, VA; several nephews, nieces, and extended family members. Stella will be remembered for her love of animals, beautiful smile, kindness to others, and sweet nature. She was a dedicated pharmacy technician, sister, aunt, friend, and was adored by all who knew her. Funeral services will be held Saturday December 12th at 6 PM at Gardner Funeral Home in Floyd, VA. Family will receive friends one hour before service time. Online condolences may be made at www.gardnerfuneralhomefloyd.com. The family is being served by Gardner Funeral Home.
---
Guest book
Nadia M.

December 10, 2015
My sincere condolences to the family. Words are never enough to take away the pain; but we can find comfort in Jehovah God's promises to soon bring our loved ones back to life again, remove all suffering and death forever- Acts 24:15 and Revelation 21:3-5. For God promises that we will soon enjoy associations with our loved ones again right here on earth forever- Psalms 37:29. May Jehovah God provide the family with strength and inner peace as you all reflect on his promises and cherish wonderful memories of Stella.
---
Stephanie Lollis
Marion, N.C.
December 11, 2015
Stella you will be so missed. You touched my heart in so many ways. You were probably the most caring most fun person I have been around and always happy. I will never forget our little drive when you got to drive my charger that day we were visiting and went for pizza. I will say she sure knew how to drive hot rods. Just to see the smile on your face. You will be so missed. Love You
---
Brenda Griffith
Christiansburg,VA
December 11, 2015
I am so sorry to hear of the loss of sweet Stella. We worked together for many years at Barranco Clinic in Blacksburg. We were like one big family. She was such a kind, caring and thoughtful lady. She will be missed. Love and prayers coming your way.
---
Alice Weddle
Moneta
December 11, 2015
Sweet Stella you will be missed by so many people. You were always so kind to Jeff and I when we came in to see Dr. Barranco. To the family, God be with you all at this time. Alice and Jeff.
---
Sandy Duke
Willis, Va
December 11, 2015
Stella, your time here was too short. I always enjoyed your humor and kindness. You will be greatly missed!!!!
---
Brad Bollinger
Conover, NC
December 12, 2015
My thoughts, prayers, and love are being sent today to John & Cathi and all of their family as well as Will and all of his family. I am so thankful that I had the good fortune to know Stella. She was such a sweet and genuine person. I'm sure she is "taking Communion" and enjoying a good laugh today with God and her family who have passed before her. Cheers to Stella, you will be missed by all who you have touched.
---
Tammara Harris (wild child)
Floyd, va
December 12, 2015
Stella will surely be missed. But will always have good memories of her. RIP my dear friend and co-worker. Day by day, Hour by hour, Minute by minute, You are always on our mind, You are never forgotten, You are one of a kind, There are many diamonds, But very little gems, You are well beloved, Your smile always shines, You always brighten our minds, If we can be just like you, Or maybe just a piece of you, We are very blessed to know a special and one of a kind lady like you.. Thank you for being you.. You are and will always be in our hearts... Now I say this to you, your journey is not over but another chapter has begun.. Let your light shine... And when we look up we will know that someone like you will be watching over us.... Now let your wings out and fly.. Just know we will be ok and there will come another day where we can meet up and have laughs and cries but most of all catch up on the good old times.. Much love to you....❤️❤️❤️❤️ AKA (wild child)
---
Chuck Simpson
Roanoke, VA
December 14, 2015
So sadden to hear of Stella leaving us way to soon. Sending Loving Prayers & Deepest Sympathy to the entire family. May Fond memories help ease the pain of this great loss.
---
Sign the Guest Book for Stella Lea Gann