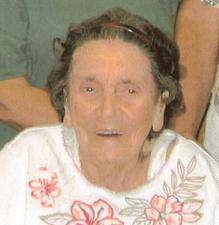 Margaret Wilson Hargrove
January 25, 1913 - June 11, 2010
Margaret Celestia Sweeney Wilson Hargrove, of Floyd died peacefully at her home in Floyd, Virginia on June 11, 2010. Born in Floyd, Va. on January 24,1913, the daughter of Peter E. and Cameron Sweeney. She and Walter A. Wilson, Sr. of Willis, Va. were wed in April of 1934. A lifelong teacher, she earned a teaching certificate from Radford College in 1931 and went back to Radford and earned a college degree in 1951. She began her teaching career in 1932 at Toncray on Black Ridge and later taught in several one room schools and at Floyd County High School in Floyd. Va. In the mid 1950s the family moved to Roanoke, Va. where she taught at Belmont Elementary and later located to Fairfax, Virginia where Mrs. Wilson taught at Oakton Elementary and then concluded her teaching career with a 19-year run at Jermantown Elementary School in the City of Fairfax. After retiring from teaching in 1973, Margaret moved back to her cherished Floyd County where she and her second husband, Hermon Hargrove, enjoyed traveling and gardening. Later she lived quietly, except for the night on the town for her 95th birthday where she flat-footed at the Floyd Country Store Friday Night Jamboree, and always enjoyed the visits from her large family and many friends. Margaret is survived by her sister, Lois Poff, of Floyd, Va.; her sons and daughters-in-law; Walter, Jr. and Dorothy Wilson of Fairfax, Sam and Leah Wilson of Fredericksburg, Pete Wilson of Fairfax, Paul and Lee Wilson of Oregon, and daughters Pauline "Polly" Wilson Eckels of Floyd, and Lena Wilson Bussey of Floyd; her grandchildren, Walter "Kiz" Wilson, III, Jimmy Eckels, Kelly Wilson, Mark Wilson, Jane Eckels Qura, Jill Eckels, Wendy W. Smith, Michele Wilson, Jennifer W. Sacco, Peter Wilson, Jr., and Joe Thompson, and several great-grand children, great-great-grand children, and many nephews and nieces. She is also survived by her best friend Ruby Sutphin and her many caregivers who provided wonderful and faithful care for her during the last years of her life. Margaret was pre-deceased by her parents, Peter E. and Cameron Sweeney, first husband Walter A. Wilson, Sr., her second husband, Hermon Hargrove, and her brothers and sisters Ballard Sweeney, Lynwood Sweeney, Strick Sweeney, Zellwood S. Ferguson, Loma S. Lowe, and Stephen Wilson, a grandchild. Visitation will be held on Saturday, June 12th from 6:00 pm to 8:00 pm at Gardner Funeral Home in Floyd, Va. A graveside service will be held at the Strickler Sweeney Cemetery on Sunday, June 13th at 2:00 pm with Rev. Roy Turpin officiating. Online condolences may be made to the family at www.gardnerfuneralhomefloyd.com
---
Guest book
Joe and Meredith Thompson
Warrenton, Virginia
June 11, 2010
You will be truly missed. So many people were touched by your life and they were better for it. When a person encounters someone like you on the path of life it leaves a mark. So many decisions they make over the course of their life seem so small but are effected by the influence you had on their lives. Your students have grown and moved around the world carrying a small piece of you with them. To them you were a mentor but to me you are my Grandma and I consider myself truly blessed. I can only hope to pass along to my children a part of the wisdom you passed to me. You will always be with us and close to our hearts.
---
James Eckels
D.C.
June 11, 2010
Thanks for being my grandmother for the last 48 years and 9 months. Miss you Maggie.
---
Jill and Tom Ebert
Bristow, Virginia
June 12, 2010
Condolences to the rest of my family on the passing of Grandma Wilson. May she rest in peace.
---
Inger M. Nilsson

June 12, 2010
My heartfelt condolences to the family of Margaret Wilson on the passing of their mother, grandmother, and greatmother. May her love continue on in her family and may she rest in peace. God Bless.
---
Roanoke City Retired Educators Association
Roanoke, VA
June 12, 2010
We appreciate Mrs. Wilson's service to the Roanoke City Schools and extend our condolences to the family. Sincerely, Roanoke City Retired Educators Assoc.
---
Jo Thomas
Dublin, VA
June 13, 2010
Lena, I am sorry to learn of the passing of your dear Mother. I know how close and dear she was to you. My sincere condolences to you and the family.
---
Iris Lawson
Hampton,Va
June 13, 2010
I have fond memories of Floyd with Aunt Margaret and the family. She was a very special aunt and also my teacher at Floyd High. I was in Floyd last week and went by to see her. My condolences to the family and she will be remembered for all of her love and support.
---
Robin Farris
Sierra Vista, AZ
August 21, 2016
I would like to extend my deepest condolences to the family of Mrs. Margaret Wilson. She was a wonderful lady filled with knowledge. And I would like to think Mrs. Wilson for being part of my education at Belmont Elementary School. You will never be forgotten. Sending prayers, and love to the family.
---
Sign the Guest Book for Margaret Wilson Hargrove